As our world continues to digitize, the need to collect, analyze, interpret, store, and use data increases.  
In the education world, for better or worse, testing and data are driving decisions more and more as schools seek to be evidence-driven and governing bodies seek accountability.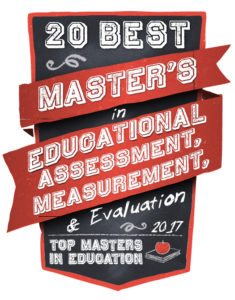 Who creates those tests?  Who collects the data and what do they do with it?  How is the data used and how do schools implement research into school policy? Or student learning? The answer is that a large number of people do.
Their job titles vary and include educational psychologists, statisticians, research analysts, or psychometricians.  These data-interested, quantitatively-motivated souls design testing instruments and systems, gather and assess data, manage databases and other programs to evaluate data and/or prepare reports, conduct studies, and surveys, and advise educational policy boards.
To qualify for work in assessment and evaluation requires graduate work. Historically the Master's of Assessment, Measurement, and Evaluation was a psychology degree. However, with data now driving decisions, the assessment degree has expanded into other fields.
The Master's (MEd, MA, or MS) in Educational Assessment, Measurement, and Evaluation focuses on the application of data analysis, assessment tools, qualitative and quantitative research, psychometrics, statistics, and evaluation in educational settings for the purpose of improving student learning and institutional effectiveness.
Each of the nation's 16,000 school districts and each of the 50 state education departments collects large quantities of data to assess the impact of schooling in its community;  in addition to these, there are many state and federal data-collection programs that are driving demand for highly-skilled analysts and directors.
What goes into a Master's in Educational Assessment, Measurement, and Evaluation (EAME)?
Essentially, what goes into a master's (MEd, MA, or MS)  in EAME is theoretical and practical knowledge of using data to assess, evaluate, and measure effectiveness.
You will be able to do this by taking courses that focus on analyzing data, creating systems of organizing information, designing tests for data collection, utilizing both quantitative and qualitative research, and learning about educational policy, learning environments, leadership, or other relevant topics that prepare you to apply the skills learned in educational contexts.
In this ranking, we focus on traditional on-campus programs. If flexibility and convenience are at the top of your priority list while choosing a degree program, don't miss our ranking of the Best Online Master's in Educational Assessment, Measurement, and Evaluation Degrees.
Depending on the degree, your program may focus more on institutional or individual assessment and evaluation. For example, historically the degree was offered through psychology departments and focused on individuals; this would include psychometrics and classical test theory.
Some educational assessment degrees such as Educational Diagnostics utilize these with a focus on individuals. In general, however, the EAME degree is geared towards institutional improvement, which is why the degree can lead to jobs not only in schools, but in government agencies, testing companies, healthcare, and the corporate world.  Coursework includes classes in:
psychometrics
qualitative/quantitative measurement or research
statistics
multivariate analysis
classical test theory
designing evaluation instruments or technology
educational courses in ethics, assessment, or learning environments
A master's degree in EAMA is 30-45 credits and usually involves a capstone research project or thesis where the knowledge learned is applied in a real-world scenario.
Some degrees under the EAME umbrella are Educational Diagnostics, which is primarily used in special education for assessing individuals needs, and Curriculum and Instruction or Educational Leadership with an assessment emphasis.
Please note that we did not include those particular degrees that fall under the category of assessment degrees.
What is the job outlook for an EAME degree?
Organizations such as the American Statistical Association and the National Science Foundation report jobs in the field are plentiful and satisfying. The field of statistical analysis, as reported by the Bureau of Labor Statistics, will grow by 27 percent in the next five years. The BLS goes on to say: "Growth is expected to result from the more widespread use of statistical analysis to make informed business, healthcare, and policy decisions."
Graduate work in EAME can prepare you for a job as a researcher and analyst in several fields, including academic institutions, state and federal agencies, school districts, the testing and evaluation industry, marketing research, and large-scale test management, and more.
Possible jobs and median salaries (according to Payscale) include:
College and university professors – $84,632
Directors of institutional research – $79,480
Directors of assessment – $73,099
Research Analyst, staff members in research and evaluation divisions in public schools, government agencies, and private corporations and foundations.- $51,754
Psychometricians – $78,603
Educational Diagnostician – $57,857
What are the best degrees in EAME?
The answer completely depends on your individual situation.  If that's where you're at, online degrees are a great place to start. If you want to keep the options open for a Ph.D., be sure to check if the EAME degree is terminal or not (often times MA degree are but MS degrees are not).
If career advancement is possible with only a graduate certificate may work; check with your current employer to make sure. If your goals are to move into leadership, look for EAME programs that combine educational administration and leadership with assessment and evaluation.
If data is your thing, such as designing systems of collection and analysis, organizing information, and working with statistics, look for courses such as statistics, multivariate analysis, psychometrics, and quantitative research.
What is your methodology for ranking the schools on the list?
Our methodology relies on statistics collected by the National Center for Education Statistics found in the IPEDS database such as graduation rate, tenure, endowment per student, etc.
In addition to IPEDS we utilize reputable ranking organizations such as U.S. News and World Report, the NCTQ, and Payscale.com to determine average salaries and job outlook, and for this ranking, the American Evaluation Association.
Program descriptions are written based on the school's website for the degree.  Our researchers gather the most relevant information to communicate the most effective help to those seeking to find the best school
For the 20 Best Master's in Assessment, Measurement, and Evaluation we looked at the school's reputation, financials, and faculty for our overall score.
The specifics of our criteria breakdown are as follows: 15 percent for each of two U.S. News and World ReportRankings (Overall Score and Best Education Schools), 30 percent for the tuition per credit, 30 percent for the average mid-career salary, and lastly, as the quality of faculty is one of the most important data-points in considering degrees,, the percentage of tenured professors.
We wish you the best of luck in your voyage of life and hope our ranking is a valuable map to your destination. Godspeed!
1.University of California – Berkeley
Serving approximately 37,500 total students and offering hundreds of majors, the University of California – Berkeley has something for everyone.  Founded in 1868, with the vision to "contribute even more than California's gold to the glory and happiness of advancing generations," UC Berkeley is doing just that.
With faculty experts in data science, evaluation, measurement, and research methods, UC Berkeley's MA in Social Research Methodology are academically excellent.  The degree in Social Research Methodology leads to careers such as an educational scholar and researcher in schools, colleges, and universities; non-profits, and corporations.  From design-based research to ethnography and interviewing, to measurement, assessment and evaluation, theory, applied statistics, and the manipulation of large data sets, the program covers all the aspects of the field.  Graduates will be prepared to shape educational policy, school curriculum, and teacher practices to increase student learning.  Admission to the program includes a minimum GPA, a statement of purpose, personal history essay, three letters of recommendation, and GRE taken no later than a month before the application deadline.
Although UC Berkeley's tuition is not cheap at $1196 per credit, it ranks #18 by U.S. News and World Report for Best Education Schools, has impressive 83 percent of faculty with tenure or on track for tenure, and the top mid-career salary is $174,000.  The positives far outweigh the negatives and make UC Berkeley our #1 overall.
2. University of Illinois – Urbana-Champaign
Located in the twin cities Champaign-Urbana, University of Illinois enrolls over 40,000 students.  Their mission reads: "With our land-grant heritage as a foundation, we pioneer innovative research that tackles global problems and expands the human experience."  In step with their mission, University of Illinois does just that.
The University of Illinois – Urbana-Champaign offers various degrees in Interpretive, Statistical, Measurement, and Evaluative Methodologies for Education, referred to as "Queries."  The Queries program focuses on these four specializations; faculty and students are concerned with developing and applying new methodologies and becoming involved with multiple research activities, both within the Department and the College, as well as across the larger campus. Upon graduation, students find positions in the public and private sector including measurement analysis, testing and evaluation directors, statistical specialists, and University faculty. Queries offer both a Master of Sciences or a Doctor of Philosophy through the Department of Educational Psychology.
The University of Illinois – Urbana-Champaign is ranked #24 in Best Education Schools by U.S. News and World Report and scored 63/100 in their overall score.  The cost per credit is a low $452, and with $102,000 as an average mid-career salary, there is no doubt that the University of Illinois – Urbana-Champaign belongs at #2.
3. University of Iowa
With just over 31,000 students, the University of Iowa is one of the nation's top public research universities, a member of the Big Ten conference since 1899, and an Association of American Universities member since 1909.
The MA in Educational Measurement and Statistics will qualify you to teach at the university level, analyze and interpret quantitative data, independently conduct research and communicate findings to various audiences, design assessments, and apply complex quantitative information in making policy decisions. The U of I degree is 32 hours and is offered with or without a thesis; a thesis is recommended for those intending to move into a Ph.D. program in the field.  The non-thesis version is offered entirely online or on campus.  Both thesis and non-thesis versions require a six-hour comprehensive exam.  Admission requirements include a bachelor's degree, a minimum GPA of 3.00, a statement of purpose, three letters of recommendation, and GRE scores.
Ranked #43 for Best Education Schools by U.S. News and World Report and with the best ROI on our list, U of I may be the perfect fit for you to advance in your career or move into a different position meeting for your goals.  The tuition is $504, and the mid-career salary is $120,000.
4. Ohio State University
As a Public Ivy, Ohio State University is bursting with academic options, service opportunities, extracurricular groups, and accolades.  Research remains a focus with expenditures in the top 10 in the United States.  OSU's main campus is in Columbus, with others in Lima, Mansfield, Marion, Newark, and Wooster.
The College of Education and Human Ecology at OSU offers the MA in Educational Studies, Quantitative Research, Evaluation and Measurement (QREM).  The program is suited for those with analytical backgrounds, though anyone with a bachelor's degree can apply.   There are two options for the QREM program: The 34-credit thesis option and the 31-credit non-thesis option. Courses such as Qualitative Research for Educators, Behavioral Research Methods in Applied Settings, Examining Knowledge, Truth, and Objectivity: Philosophy of Science and Introduction to Measurement will prepare you to design, assess, implement, and improve schools' data collection and use.  Also notable is the active student body, alumni network, and graduate teaching opportunities at OSU.
When considering the $132,000 mid-career salary, an Ohio State degree becomes worth the investment.  Ranked #18 by U.S. News and World Report for Best Education Schools and with a tuition of $1,104 tuition per credit propels the program to #3.
5.  George Mason University

Located on three suburban campuses near the District of Columbia, George Mason University serves 33,900 students on 817 acres.  Its prime location just outside of Washington D. C. makes this school a hub for top-notch research and cutting edge educational techniques.  The University also has a sizable commuter population.
The Department of Educational Psychology offers a 30-credit master's degree program designed for professionals to apply the principles of learning, cognition, and motivation to problems in the area of education.  They will use research, assessment, and evaluation methodologies to design and implement effective educational programs in a broad range of contexts.  Upon completion of the program, students will have a Master of Sciences in Educational Psychology with a concentration in Assessment, Evaluation, and Testing.  Classes include Theories of Learning and Cognition, Education Research, Educational and Psychological Measurement, and Program Evaluation, just to name a few.  There are several degree options with this focus including a Graduate Certificate, a bachelor's with an accelerated master's, and a Ph.D. option.
George Mason University is ranked #62 in Best Education Schools by U.S. News and World Report and scored 39/100 in their overall score.  The cost per credit is $763, and the average mid-career salary is $130,000, making the return on investment worth considering.
6.  University of Washington
"Let there be light" is a fitting motto for the University of Washington.  The UW is a multi-campus university in Seattle, Tacoma, and Bothell, as well as a world-class academic medical center with an enrollment of 45,000 students.  The University has 16 colleges and schools and offers 1,800 undergraduate courses each quarter.
The MEd in Measurement and Statistics prepares you to work in school districts, state governments, universities, non-profit agencies, and private companies.  The MEd at UW is designed for individuals from a variety of backgrounds from social science to psychology who are interested in applying statistics, developing assessments, developing tests, and using psychometrics to improve schools and institutions. The program features 45 credits in Educational Foundations, Learning Science & Human Development, Measurement & Statistics, with nine credits for thesis/project.
UW's impeccable reputation and marvelous #9 ranking for Best Education Schools from U.S. News and World Report are further bolstered by a good ROI;  the tuition per credit $1,486 and the mid-career salary is $150,000.
7. University of South Florida 
The University of South Florida, or USF, is a research institution with the main campus in Tampa, and regional campuses in Sarasota and St. Petersburg.  Founded in 1956, today there is a total of 42,000 students.
The College of Education at USF offers MEd, EdS, and PhD programs in Measurement and Evaluation as well as graduate certificates in Evaluation, Qualitative Research in Education, and Quantitative Research in Education.  The program is designed to prepare students for leadership in the fields of educational policy and practice at the local, state, national, and international levels.  Graduates go on to positions such as Directors of Accountability and Assessment, Supervisors of Testing, Evaluation and Research in school districts; faculty positions in public and private colleges, universities, and community colleges, research positions in state departments of education and other governmental agencies, and measurement positions in state and national testing organizations.  Because of the variety of degrees offered, there are many paths for students to advance their education in this growing field.
The University of South Florida is ranked #93 in Best Education Schools by U.S. News and World Report and scored 36/100 in their overall score.  The cost per credit is the lowest on the list at only $431, and the average mid-career salary is $114,000, making the return on investment one of the best.
8.  Boston College
The first institution of higher learning in Boston was Boston College.   The main campus is designated as a historic district and adorned with green spaces and paths surrounded by Collegiate Gothic architecture.  The private Jesuit College is respected for academic excellence and research and enrolls 14,000 total students.
At Boston College, the Department of Educational Research, Measurement, and Evaluation (ERME) offers the MEd in Educational Research, Measurement and Evaluation and the MS in Applied Statistics and Psychometrics; both degrees are 30 credits and take two to three years to complete.  A distinct advantage of a BC education in ERME is the proximity to Greater Boston and the Northeast region and research centers on campus. The degrees both feature hands-on research, often with faculty.  The MEd courses include Research Design, Statistics, Large Scale Data Collection, and Program Evaluation.  The MS includes courses in: multiple regression and multivariate models, hierarchical linear models, and psychometric models.  Admission to the program includes transcripts, a statement of purpose, resume, two letters of recommendation, and a GRE score.
One of the more costly degrees regarding tuition at $1,420 per credit, BC makes up for it in average mid-careers salary at $105,000.  Add to the ROI a #23 ranking by U.S. News and World Report for Best Education Schools, and a 70 percent faculty tenure, and it's clear BC deserves to be in the top five.
9.  Western Michigan University
Home to 23,500 students, Western Michigan University, is a public university that was founded in 1903.  It is located in the city of Kalamazoo and offers more than 140 undergraduate programs, as well as many graduate degrees through the Hawarth College of Business, the College of Engineering and Applied Sciences, and the College of Education and Human Development.
The Master of Arts in the evaluation, measurement, and research in the Department of Educational Leadership, Research and Technology at Western Michigan University is designed to prepare you for staff positions in the evaluation, testing or research units in schools or non-school organizations. Students will take basic courses in applied statistics, evaluation, measurement, and qualitative and quantitative research methods.  Completion of the program requires 27 credits and a capstone portfolio experience.  The portfolio will demonstrate the student's ability to apply the principles and techniques learned from the core courses.
Ranked #120 for Best Education Schools by U.S. News and World Report and an overall score of 29/100, the University isn't the highest ranked on the list, but the ROI makes it worth considering.  The tuition is $554, and the mid-career salary is $98,500.
10.  George Washington University

Founded in 1821, George Washington University educates 15,000 total students only four blocks from the White House.  The School is particularly known for having over 12,000 internship opportunities in places like the White House, Bloomingdale's, National Institutes of Health, and the World Bank.
The Graduate School of Education and Human Development's MA in Assessment, Testing, and Measurement in Education is the "nation's premier graduate training in psychometric and statistical methods taught by faculty who are engaged in world-class research."  The 30-credit program includes courses in foundational assessment, the design of ATM models, and educational testing as well as a culminating capstone project and cumulative exam.  Due to the fact that statistical measurement is now integral to corporate, educational and non-profit operations, having the MA in ATM will allow you to work in school districts, institutions of higher education, research-oriented organizations, federal research agencies, or nonprofit organizations.  The ATM program is 15-months and is designed for individuals who are entering or advancing in positions.
An investment in GWU makes sense.  The tuition is on the high end on our list at $1,655, however considering the average mid-career salary of $130,000 makes the ROI worth it.  Ranked #38  by U.S. News and World Report for Best Education Schools you can certainly count on quality.
11. Florida State University
Florida State University football has a rich tradition reaching back to 1899, but education has an even richer one. Founded in 1851, FSU is the oldest continuous site of higher education in Florida. With an enrollment of 41,500 students, FSU is diverse and offers a vast array of studies. In fact, the School offers and incredible 341 degree programs.
At FSU the MS in Measurement and Statistics is offered in a thesis or non-thesis form.  This degree focuses on foundational knowledge and skills in measurement theory, statistical analysis, and evaluation. This degree can also complement a higher degree in a related discipline, such as Educational Leadership and Policy Studies, Educational Psychology, or Instructional Systems and Learning Technologies.  The curriculum includes courses such as Descriptive/Inferential Statistics Applications, Multivariate Analysis Applications, and Measurement Theory.  Students may choose a Thesis or Comprehensive Exam. Admission requirements include a bachelor's degree with at least a 3.0 GPA, GRE scores, three letters of recommendation, and a personal statement.
Affordability and quality intersect at FSU.  The cost per credit is $1,110 with a $107,000 average mid-career salary and the school ranked #52 in the country for Best Education Schools by U.S. News and World Report. 
12. University of Connecticut
At the University of Connecticut, "Knowledge exploration throughout the University's network of campuses is united by a culture of innovation." This spirit has been driving the 30,000 student public, research university since 1881.
The Department of Educational Psychology and Neag School of Education offer the MA in Measurement, Evaluation, and Assessment (MEA).  The MA in MEA is designed for specifically for educators and practitioners who wish to gain more knowledge and skill in the emerging field of measurement, evaluation, and assessment, however, anyone with a bachelor's is encouraged to apply.  The degree moves through coursework focusing on fundamentals of MEA: Instrument development, classical and modern measurement theory and applications, item response theory, causal inference, multivariate statistical techniques, multilevel modeling, sampling methodology, and educational assessment. Generally, three semesters of full-time study is required to complete the degree, though duration varies depending on pace.
The strength of UConn's program is their reputation for excellent academics.  U.S. News and World Report ranked the school #27 for Best Education Schools, and the program is recognized by other ranking organizations as well.  The percentage of tenured faculty is 69, one of the best on our list.  The tuition is $1,932 per credit.
13. University of Maryland – College Park 
Founded in 1856, the University of Maryland the flagship and a land-grant institution of the UM System. The School's 37,000 students have amazing academic choices with 250 academic programs and the tremendous advantage of having the Library of Congress, National Archives and the Smithsonian Institution just five miles away.
The MA in Measurement, Statistics and Evaluation (EDMS) program at UM will prepare you to serve as research associates in academic, government, and business settings.  Since educational research relies on data collection instruments, students in the MA program will learn foundational and advanced skills in developing models and methods, sampling frameworks, and analyzing data.  Something to note about UM is that full-time assistantships are available and renewable for those who qualify.  Perhaps the most attractive feature of UM is their incredible location with DC just five miles away. Students have conducted projects or been employed by American Institutes for Research, The Census Bureau, State Departments of Education, National Education Association, U.S. Department of Education, Educational Testing Service, and Maryland Assessment Research Center for Education Success to name a few.
UM has the third highest tuition on our list at $1,831 per credit, but the cost is offset by the long-term return; the mid-career salary is also the third highest at $144,000.  With proven quality and a good reputation, UM will not disappoint.
14. Rutgers University
"Sol iustitiae et occidentem illustra – Sun of righteousness, shine upon the West also." A fitting motto indeed for Rutgers University in New Brunswick, New Jersey.  A member of the Association of American Universities, Rutgers is known for research and outstanding academics.  Their rich history and tradition go back to 1766.  RU has 31 schools and colleges, more than 300 programs and degrees, nearly 300 research centers and institutes and 69,000 total students.
Rutgers Graduate School of Education offers an EdM in Educational Statistics, Measurement, and Evaluation (ESME).  The degree trains you with the knowledge and skills for employment in a variety of fields; for example, researchers or data analysts in the fields of social science research, educational testing, marketing research, or pharmaceutical research.  A sampling of coursework includes Statistical Methods, Psychometric Theory, Applied Multivariate Analysis, and Causal Modeling.  The ESME program is 33 credits and does not require a thesis or comprehensive exam.  Admission includes a bachelor's degree, GRE scores, three letters of recommendation, and a personal statement.
Affordable tuition at $1,172, a $95,500 mid-career salary and a #52 ranking for Best Education School by U.S. News and World Report are attractive and nicely complement Rutgers respected reputation as an excellent institution.
15.  Pennsylvania State University
Pennsylvania State University is a leader in teaching, research, and public service. The University's influence is enormous with 24 campuses, 100,000 students, a teaching hospital, the online World Campus, and "the largest student-run philanthropic organization on the planet."  Penn State is a Public Ivy and offers a world-class education across many fields.
The MS in Educational Psychology, Measurement and Evaluation is provided through the Department of Educational Psychology, Counseling, and Special Education.  There are two tracks, thesis and non-thesis; the non-thesis is intended for those not seeking to move into a doctoral program.  The 30-credit program includes coursework and a paper/thesis.  Courses include Applied Statistical Inference for the Behavioral Sciences, Learning Processes in Relation to Educational Practices, Introduction to Educational Research, and Principles of Measurement.  There are teaching and research assistantships available, though priority is given to those who apply for the MS/Ph.D. program; hence, it would be advisable to apply and decide later whether moving into the Ph.D. program is best.
In your search for the perfect fit, Penn State is worth a look because we are all looking for the highest quality for the best price.  At Penn State, the tuition is not cheap but is affordable at $1,428, and the mid-career salary is $91,900 making the ROI favorable.  As for quality, Penn State lives up to its Public Ivy reputation.
16. University of North Carolina – Greensboro

Founded in 1891, the University of North Carolina "defines excellence not only by the people we attract but by the meaningful contributions they make." The 19,000 students are offered 86 undergraduate, 74 master's, and 32 doctoral programs.  UNCG is recognized as for research, community engagement, and Weatherspoon Art Museum, one of the largest collections of American art in the country.
The MS in Educational Research, Measurement, and Evaluation (ERM) at UNCG is excellent. UNCG's ERM program has two concentrations as well: Measurement and Quantitative Methods and Program Evaluation.  The 33-credit program teaches foundational knowledge and skills amounting to a comprehensive education in educational research, measurement, and evaluation through coursework, practicums, hands-on field experiences, and a comprehensive exam.   The program for those seeking career advancement or ambitions to move into doctoral work in areas that employ quantitative research methods. Classes are held during the evenings making this degree convenient, and with the two concentrations and multiple electives (six of the total 33 credits), there are good choices within the program to tailor it to your interests.
If you choose to earn your MS in ERM at UNCG, you will be pleased with the quality of the program and the long-term investment.  The School is ranked #52 by U.S. News and World Report, the tuition is $1,172 per credit, and the mid-career salary is $95,500.
17. Oklahoma State University

Oklahoma State University was established on Christmas Eve in 1890.  Originally Oklahoma Agricultural and Mechanical College, OSU is a land-grant, sun-grant, coeducational public research university that has grown greatly since the first graduating class of six. OSU has more than 35,000 students across its five-campus system
The School of Educational Studies offers the MS  in Educational Psychology, Educational Research and Evaluation (ERE) at the OSU-Stillwater and Tulsa campuses.  At OSU the focus for the ERE program is research.  Students receive work very closely with faculty as instructors, mentors, and research partners.  One particular example of this is that students in the program typically attend the conference and present their research alongside faculty mentors.  This real-world research experience is a definite strength of the program.  Curriculum specifics of the 36-hour program include an 18-hour foundation in educational psychology, research inquiry, and a thesis, report, or creative component and an 18-hour focus on research, evaluation, measurement, and statistics in educational settings.
Seventy-one percent of OSU's faculty are tenured leading to an assurance of high-caliber teaching.  Tuition is one of the most affordable at $825, and the mid-career salary is $82,800.
18. Columbia University Teachers College
Columbia University Teachers College is the oldest and largest graduate school of education in the United States.  Founded in 1887, it has been a Faculty of Columbia University since its affiliation in 1898.
Columbia University Teachers College offers a Master of Science in Applied Statistics and a Master of Education in Measurement and Evaluation.  Both of these degrees offer classes like probability and statistical inference, applied regression analysis, linear models and experimental design, multilevel and longitudinal data analysis, and multivariate analysis, just to name a few.  The degree culminates in a project that is determined by the student in consultation with their advisor.  The M.S. in Applied Statistics requires at least one year of study and provides training for positions in applied research settings, testing organizations, and business organizations.  The Ed.M. in Measurement and Evaluation is a two-year master's degree and provides training for a position in educational research bureaus and testing organizations.
Ranked #7  in the Best Education Schools by U.S. News and World Report, the $1512 cost per credit is worth it for those who desire the world-class education and renown that Columbia is known for.  Graduates average mid-career salary is $73,400.
19.  University of Toledo
Situated in Toledo, Ohio is the picturesque campus of the University of Toledo.  Serving 23,000 students with a vibrant campus life of over 300 student organizations, the University offers over 300 degrees from undergraduate to graduate and professional degrees.  UT has nationally ranked programs in business, engineering, law, and occupational therapy.
The Department of Educational Foundations and Leadership at the Judith Herb College of Education (JHCOE) offers an MA in Educational Research and Measurement with specializations in measurement, program evaluation, qualitative research methods, and statistics. The MA will prepare you for employment in university teaching and research, educational institutions, business, and government, all of which are demanding highly-trained individuals in research, measurement, and statistics.  The MA program is 36 hours and includes a thesis.  Program outcomes include expertise in the design, execution, and interpretation of applied research and a deep understanding of the theoretical foundations of research and measurement.
UT's faculty are experts, and 73 percent are tenured.  With confidence in the quality, and affordable tuition of $979 cost per credit and a mid-career salary is $83,100.
20. University of Wisconsin – Milwaukee
The University of Wisconsin–Milwaukee is the largest university in the Milwaukee Metropolitan area and a member of the University of Wisconsin System.  It is also the second largest university in Wisconsin with 26,000 students.
UWM's Department of Educational Psychology offers a Masters degree for students who are interested in specializing in educational statistics and measurement:  Students may choose either a non-thesis or a thesis track. The non-thesis program provides basic research methodology coursework for students who are planning to go straight to work in positions that require educational measurement and research methodology. The thesis program is primarily intended for students planning to go on to doctoral studies.  Students will complete 30 credits, including 12 credits of core courses, six credits in Learning and Development, and 12 elective credits, six of which must be in Educational Statistics and Measurement. Each student's program of study is developed in consultation with an assigned advisor. A full-time student can typically complete the program in two years.  In addition to course requirements, students must either complete a thesis or pass a final comprehensive examination.
The University is ranked by U.S. News and World Report Best Education Schools as #77, recognizing it as one of the top 100 in the nation.  The cost per credit is the highest on the list at $2052 per credit hour, but students will be assured of a top-quality education as 70% of the full-time faculty is tenured or on tenure-track.