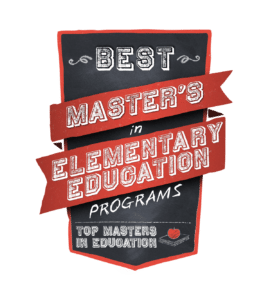 Looking back as adults, we owe much to those teachers who helped us learn about life through finger paint, blocks, and read-aloud time.

If you happen to feel called to the world of elementary education, to bring to life the incredible universe around us through teaching young ones, rest assured that you've chosen a difficult but deeply rewarding profession.
In this ranking, we cover in-person graduate programs. Be sure to visit our ranking of the Best Online Master's in Elementary Education Degrees for other top-ranked programs in this field.
To become a classroom teacher, you need to acquire a teaching license. Every state varies in requirements and standards, so we at Top Master's in Education recommend finding your own state's requirements.
Many people, and you may be one, have earned a Bachelor's degree in an area other than education and have decided to enter the world of teaching. Our universities provide opportunities to go through an educational degree program and earn licensure for those who want to teach. Operating on the premise that classroom learning is substantially improved when teachers understand children's development, our institutions of higher education offer master's programs that end in teacher certification.
The traditional degree for those with a non-education bachelor's wishing to teach is the Master of Arts in Teaching or the MAT. Though this title is still the most popular, it is sometimes called a Master's in Teaching (MIT), or just an MT.  
Admission to the program usually requires a bachelor's degree and minimum undergraduate GPA of 2.5 or 3.0. In general, MAT programs are about one year long and include courses in educational psychology, classroom management, assessment, curriculum and instruction, and philosophy of education along with elementary-specific classes in children's literacy, teaching math to elementary students, teaching diverse learners, and more. Student teaching is typically one semester, though more robust programs require a full year of residency. There are both residential and online programs as well as hybrid models.
Our methodology for this ranking is evidence-based research of various relevant categories. Data is sourced from reputable organizations; for this ranking the National Center for Educational Statistics, the National Council for Teacher Quality (NCTQ), U.S. News and World Report, and school websites. We rely on school websites for tuition, which is always included in our rankings. Other criteria used for this list includes the school's reputation, student to faculty ratio, and mid-career salary.
1. University of Virginia
Referred to simply as "Virginia," the University of Virginia in Charlottesville, Virginia was founded by Thomas Jefferson in 1819. The original mission of our third president and polymath continues to this day, "to develop tomorrow's leaders who are well prepared to help shape the future of the nation and the world." Virginia is America's only college that is a University ESCO-designated World Heritage Site and is famous for architecture, design, and beauty. There are currently about 23,000 students on campus, with many more online and at the University of Virginia Health System.
The Curry School of Education offers a MAT with licensure and endorsement in Elementary Education. There are two versions of the degree: the Bachelor's/Master's five-year program and the postgraduate (traditional) MAT for those with an undergraduate degree in hand. The traditional program takes two years and 30 credits plus student teaching. Courses include Childhood Learning & Development, Curriculum & Instruction for Elementary and Special Education, Reading Development, Classroom Management and Behavioral Assessment, Designing Technology Enhanced Solutions, Contemporary Educational Issues, with multiple field experiences interspersed throughout, and culminates in the 12-credit teaching internship. Be sure to look for financial assistance or scholarships around December, as all Master of Teaching students are also eligible for help through the Curry Foundation.
Quality content is taught at a 15:1 student to faculty ratio, though, the cost per credit is on the high end at $2097. The NCTQ Graduate Elementary Education Program was ranked #63, and U.S. News and World Report ranked Virginia #6 in "Best Graduate Elementary Education." All in all, Virginia ranks a well-deserved #1.
2. University of Washington
The University of Washington in Seattle, Washington gets the job done. Among graduates of UW are 136 Fulbright Scholars, 35 Rhodes Scholars, seven Marshall Scholars, four Gates Cambridge Scholars, and two Nobel laureates. The UW is a multi-campus University in Seattle, Tacoma, Bothell, and a renowned academic medical center. Over 45,000 students take 1800 undergraduate classes each quarter through 16 colleges and schools. UW confers more than 12,000 professional degrees annually.
There are two options at UW to earn a MAT in Elementary Education. The Elementary Teacher Education Program at UW is a MAT with licensure. The program is a full-time, one-year degree that moves fast and furious through 60 quarter credits and a total of 505 hours in the field. The ETEP focuses on issues of equity and academic excellence while preparing you for success through best practices and theory from classroom discipline to differentiated instruction. The Seattle Teacher Residency (STR) program is a cohort-style training that prepares you to teach in Seattle Public Schools. STR Residents receive a living stipend, a teaching position in Seattle Public Schools in the second year of the program, and finish with a Master's of Art in Teaching. The 71-quarter credit program features two months of coursework, followed by a full year of fieldwork, and the option to add ELL or Special Education as an endorsement.
The NCTQ Graduate Elementary Education Program was ranked #117, and U.S. News and World Report ranked UW #7 in "Best Graduate Elementary Education." The cost per credit is $1456, making the quality for the price very favorable.
3. Johns Hopkins University
Johns Hopkins University is renowned for their research. JHU is a private research University in Baltimore, Maryland enrolling over 20,000 students. The University offers more than 240 programs in the arts and music, humanities, social and natural sciences, engineering, international studies, education, business, and health professions. Today, John Hopkins University boasts cutting edge research that made water purification possible, launched the field of genetic engineering and authenticated the Dead Sea Scrolls.
There are three paths for earning your MAT in Elementary Education at Hopkins: Full-time Master of Arts in Teaching, Montgomery County Public Schools Full-time Partnership, and Part-time Master of Arts in Teaching. The MAT is 39 credits and prepares candidates for certification. The traditional full-time MAT takes 12 months. For JHU University undergraduates, consider the Baltimore Education Fellows Scholarship, an incredible full-tuition plus $20,000 living stipend for those who wish to work in our most challenged and low-performing schools. The Montgomery County Public Schools partnership is also full-time, but works by studying while working as a long-term substitute; the MCPS partnership provides some tuition support. The part-time option allows self-pacing within a five-year limit. Guided by the Interstate New Teacher Assessment and Support Consortium (InTASC) Standards you are required to do multiple field experiences and keep a portfolio in addition to coursework.
The cost per credit is an affordable $1200, putting it in the middle of the road on our list. The NCTQ Graduate Elementary Education Program ranking recognized the excellence of JHU with a rank of #22.
4. University of North Carolina—Charlotte
The University of North Carolina at Charlotte is an urban research university located in the Piedmont of North Carolina, just two hours from the mountains, and three hours from the Atlantic Ocean. Charlotte, a blossoming city with several Fortune 500 companies, offers great cultural, business, and educational opportunities. The 1000 wooded acres give the nearly 30,000 students a small school feel but with all the options of a large school.
UNC-Charlotte is a great place to build on your bachelor's by earning a master's degree and teaching license. With their MAT in Elementary Education, you can be doing what you love in around two years. The 39-credit program works in two phases: Phase One prepares you as a highly qualified teacher by leading you to initial licensure. Next is Phase Two, where you earn your MAT. This part of the program deepens your knowledge and skills and builds you up to be a self-reflective master teacher with advanced competencies as a leader and researchers. Courses such as Child Development & Instructional Design for Elementary School Learners, Teaching and Integrating Science, Introduction to Educational Research, and Classroom Management and Leadership for Diverse Learners are taught both online and residentially. If you are interested in funding for your studies, check out UNC's Adapted Curriculum Licensure Plus Project, an effort to support severely disabled students.
One of the significant data-points to note is UNC-Charlotte's tuition of $872, the seventh lowest of our 30 ranked programs. Quality is not lacking with an NCTQ ranking of #113 and student to faculty ratio of 18:1.
5. Christopher Newport University
Christopher Newport University educates in the liberal arts and sciences and emphasizes leadership, service, and honor. The public University is located in Coastal Virginia, in Newport News, and was named after the buccaneer who sailed to Jamestown in 1607. Founded in 1960 as a two-year branch of the College of William & Mary, CNU is now independent. CNU enrolls over 5000 students and offers 50 majors in a variety fields.
"Changing a life forever is the daily work of a teacher," says CNU's Office of Teacher Preparation. The School offers their Teacher Preparation Program in three forms: the traditional MAT, a five-year University undergraduate/graduate MAT program and a licensure only track. The traditional MAT, fully accredited by the Virginia Board of Education, ends in initial licensure in the State of Virginia. The TPP strives for four outcomes: planning and preparing for instruction, creating a safe, orderly and nurturing environment that creates high expectations respecting d, delivering and assessing instruction to meet state-mandated and district objectives, and professional responsibilities. Courses include practical knowledge in classroom management, technology integration, educational psychology, curriculum and instruction, and more. The student teaching experience comes after previous field work and is eight credits. Admission to the program includes a minimum GPA of 3.0 and the Praxis Core and Praxis II among other requirements.
The NCTQ Graduate Elementary Education Program was ranked #63. This recognition is supplemented by the quality of a 15:1 student to faculty ratio. Lastly, it's nice to know the cost per credit is affordable at $1058.
6. College of William and Mary
There is no doubt that William and Mary is an excellent University, historically, academically, and all-around. The College of William and Mary is located in the charming, historic town of Williamsburg, Virginia. The School is the second oldest college in the nation, founded in 1693 by King William III and Queen Mary II. It is now a cutting-edge research University, a "Public Ivy," and home to over 8000 students.
The Elementary School Teaching Master of Arts in Education Program prepares teachers who love students are skilled at teaching them. The MAEd (the same at the MAT) is a full-time, 12-month program consisting of 45 credits dispersed in three semesters. If you choose William and Mary's MAEd program you will be placed in a cohort, begin your educational journey after Memorial Day, and graduate with a teaching degree and an initial license the following May. Please note regarding the licensure requirements, that to be eligible for the K-6 license, you must have completed at least three college credits in each of the following areas: English, history, social science, mathematics, and science with accompanying lab. Also offered is the options Literacy Emphasis, if you are drawn to the amazing and vital world of teaching reading to young children; it is an additional two courses (six credits). The student teaching experience is seven credits following previous field work and requires a passing score of the Praxis Core Academic Skills for Educators.
The NCTQ Graduate Elementary Education Program was ranked #73 and the cost per credit is $1620. The 12:1 student to faculty ratio provides a personalized education as well putting William and Mary at #6.
7. University of California Berkeley
Everybody has heard of Berkeley for one reason or another, but few know their history. Founded in 1868 with a noble aim to "contribute even more than California's gold to the glory and happiness of advancing generations" is University of California Berkeley. The University enrolls about 40,000 students who choose from over 300 degrees. Considered by many the #1 public University, UC Berkeley's accolades back up the claim: 77 faculty Fulbright Scholars, four faculty currently holding Pulitzer Prizes, 29 Nobel Prizes held by alumni, and the list goes on.
UC Berkeley's Graduate School of Education offers the Developmental Teacher Education Program (DTE). This innovated and Unique Master of Arts in Education (MAEd) program is designed for students to earn a Preliminary Multiple Subject Credential with certification to teach children whose first language is not English. The 47-credit program is rigorous and takes two years to complete. Courses include Human Development and Education – Social/Moral Development, Development, Learning, and Instruction in Cultural Contexts, Teaching Linguistic and Cultural Minority Students, Urban Education, and more. A unique aspect of the program is the robust field experiences. DTE students have four field experiences: first and second summer fieldwork takes place at our Arts and Academic Language Summer School in Oakland Unified School District, with more extended student teaching in the fall and spring semesters. You are placed in a variety of diverse school settings with an emphasis on placements in urban contexts.
Quality and price may intersect for you at UC Berkeley. The NCTQ Graduate Elementary Education Program was ranked #92 and the cost per credit is $1679. Combined with a reputation among employers and Berkeley could be a fit.
8. St Mary's College of Maryland
St. Mary's College of Maryland is a public honors college similar to an elite liberal arts college. History is deep at SMCM as it was founded in 1840, the 361-acre waterfront campus is set across from St. Mary's City founded in 1634, set in the heart of American history and only 70 miles from Washington D.C. Today, the College enrolls 1700 students, committed to the ideals of affordability, accessibility, and diversity.The School offers 24 undergraduate and seven graduate programs
SMCM's MAT in Elementary Education prepares teachers who think critically, problem-solve, use technology effectively, know their content, and understand child and adolescent development. SMCM's MAT program is offered in three pathways: 2+1, 3+1, and 4+1. Essentially a combined bachelor's/master's program for students with previous undergraduate or no undergraduate credits. If you are currently studying for a bachelor's but wish to become a teacher this program is ideal as the 2+1 or 3+1 pathways will place you in a position to finish your bachelor's and earn your master's. The MAT program is an 11-month, fast-paced and rigorous experience. Courses include Technology in the Classroom, Literacy Methods, and Materials for Teaching Reading, Teaching Content Grades, and Teacher as Researcher to name some. In addition, there are multiple internships simultaneous to courses.
The distinctive honors college liberal arts education at SMCM is taken seriously, meaning excellence and scholarship count. The NCTQ rank of #203 indicates room for growth, but the cost per credit is the lowest on the list at $433 and the student to faculty ratio is 10:1.
9. Virginia Polytechnic University
"Ut Prosim—That I May Serve" is the motto for Virginia Tech. Virginia Polytechnic University has provided our country with thousands of skills and productive citizens contributing millions of dollars and working to improve the lives of many since 1872. A land-grant university located in Blacksburg, Virginia, Virginia Tech offers 250 undergraduate and graduate degree programs to more than 33,000 students.
If you're looking to earn a master's and licensure in teaching PK-6, Virginia Tech may be your destination. The School offers a MAT in Elementary Education that leads to licensure in a little as 12 months. The Program is 45 to 51 credits depending on if the State of Virginia's six credits in Psychological Foundations of Education for Preservice and Educating Exceptional Learners across the Lifespan are met by your undergraduate experience. Admission requires a minimum GPA of 3.0, a passing score on the Praxis Core or have an equivalent SAT or ACT score, scores on Praxis II, a minimum of 100 hours working with children at the PK-6 level (aged 3-14) during the five years prior to applying, and various general studies undergraduate courses. The sequence of the program moves quickly with educational content and interspersed nine and six credit-hour internships; you are required to a research seminar on student assessment.
With an NCTQ ranking of #138 and student to faculty ratio of 14:1. The cost per credit is reasonable, and falls in the middle for our 30 programs, at $1394. All in all, Virginia Tech's MAT belongs in our top 10.
10. University of California Davis
One of the 10 campuses of the University of California system, University of California Davis shines at one of the few "Public Ivies." Known for amazing research and faculty, the School is one of the best research institutions in the world. There are currently over 35,000 total students at UCD. The University offers 104 undergraduate majors, 99 graduate programs with 38 percent of undergraduates conducting research. Extra-curricular options abound with over 800 clubs.
The Master of Arts in Elementary Education leads to licensure and is "designed to immerse students in the total environment of the classroom, provide a theoretical-practical approach to the teaching-learning process, and encourage close interaction between faculty and students." The 36-credit sequence is essentially twofold: a credential focus, and with that complete, the MA portion. Coursework includes best-practices and advanced education courses; there is a comprehensive exam. Please note, there is no admission directly to the MA/Credential track. Admission requires a Bachelor's degree, CBEST/Basic Skills scores, an interview, and 30 plus hours of classroom experience. For those who are admitted to the credential track, then must complete requirements with a minimum of 3.0 GPA and acceptance into a qualified institution for teacher inquiry.
The NCTQ rank of #125 is an indication that UCD's program is doing the job. The cost per credit is on the high side at $1655, but the mid-career salary of $145,000 gives assurance to the long term financial investment.
11. Teachers College Columbia University
Established in 1887, Teacher College in New York City is the graduate school of education, health, and psychology at Columbia University. Known for academic excellence and incredible faculty, Teachers College graduates work in influential positions in academia, government, music, non-profit, healthcare, and social science research. There are currently 5000 diverse students enrolled in the School and international students from 81 countries.
The Department of Curriculum and Teaching offers a unique opportunity for those with or without teaching/educational experience. The Preservice Program in Elementary Inclusive Education leads to a Master of Arts and teacher certification in the State of New York. The Program comes in four tracks: Elementary Only (40 credits), Elementary and Students with Disabilities (52 credits), Elementary and Students with Disabilities and the Gifted Extension (52 credits), and the Inclusive Elementary Education (38 credits). The Elementary Only comes in full- or part-time options. The full-time option takes you through coursework and fieldwork simultaneously in 13-16 months. The part-time option is more of the traditional coursework and then student teaching and takes two years; there is a five-year limit on both options. Coursework includes Inclusive Curriculum & Instruction, Literacy Methods, Multicultural Social Studies, and more.
Teachers College's experience shows with a U.S. News and World Report rank of #3 for "Best Graduate Elementary Education." Such recognition leaves no doubt as to the respect a TC degree means to employers. Cost per credit is $1512 making this golden program affordable.
12. Vanderbilt University
Vanderbilt University is located in Nashville, Tennessee. The University enrolls 12,000 and academic options abound in every field. Research is important at VU with several research centers and institutes affiliated with the university, including the Vanderbilt Institute for Public Policy Studies, Dyer Observatory, and Vanderbilt University Medical Center.
Recently redesigned with students in mind, Vanderbilts MEd Elementary Program aligns with The Interstate Teacher Assessment and Support Consortium (InTASC) and State standards and features Peabody's (VU's College of Education) seven-hour course strand called "Learning Ecologies" designed for incorporating social justice. The 32-credit MEd program can be completed in one year, summer to summer and ends in licensure. Focusing on equity, access, and inclusion, the program moves from elementary content core, to educational theory and practice and into the first internship. Moving back to advanced educational knowledge and best-practices, the program ends with another internship. All in all, the deepening spiral-like sequence blends theory with experience in a way that works.
A glance at vital data-point shows that VU's #12 rank is well-earned. A borderline high tuition of $1824 is offset by at personalized 8:1 student to faculty ratio, and a $98,700 mid-career salary. U.S. News and World Report ranks VU #5 for "Best Graduate Elementary Education."
13. Stanford University
The name "Stanford" means respected academics, world-class faculty, and cutting-edge research. Stanford University in Stanford, California was established in 1891; their history and traditions are deep, and the School has honed their educational vision for over a century. Located in Silicon Valley on over 8,000 acres, about 16,000 total students enjoy countless academic and extracurricular options on one of the quintessential colleges in America.
The STEP Elementary Program combines a small cohort style with an expert faculty for an individualized and personal education. When completed, you will have a Master of Arts in Teaching and a preliminary California Multiple Subject Teaching Credential. Notable is the primacy of field experience, something vital to a successful program. You will engage in three field placements, an average of 16 hours a week, and increasing as the program progresses to full-time student teaching. Placements in multiple schools at multiple levels maximize Stanford's comprehensive approach. Courses include Elementary Classroom Leadership and Management, Quantitative Reasoning and Mathematics, Equity and Schooling, Ethics in Teaching, and Child Development In and Beyond Schools. STEP Elementary is 45 credits for both Master's and Credential, though an additional three credits can be added at no charge.
Stanford's reputation speaks for itself, but it's nice to know other recognize it as the fine institution it is. U.S. News and World Report ranks Stanford #11 in "Best Graduate Elementary Education." The cost per credit is $1327 and the mid-career salary is $127,000.
14. University of New Orleans
The University of New Orleans in New Orleans, Louisiana, was established in 1956 by citizens. Located on the southern shore of Lake Pontchartrain, an old Navy base, only 15 minutes from the French Quarter, UNO enjoys a 195-acre campus. Notable to say the least, the University has been on the "least debt list" put out by U.S. News and World Report for six years straight. Opportunities are everywhere for the 8500 students, from undergraduate to graduate programs in many fields to student life, Greek life, and athletics. UNO generated a total economic impact of $470.5 million in 2014.
The MAT at UNO fits the traditional version of the degree, designed for those with non-education bachelor's who wish to earn both a master's and teacher certification for grades 1-5. The College of Education and Human Development's MAT is a 36-39 credit program, highlighted by a six-hour capstone internship followed by a nine credit-hour student teaching. These are followed by 15 credits under the title Knowledge of the Learner and the Learning Environment and 12 credits of Methodology and Teaching. The average duration for students to complete the program is two to two and a half years. Admission is a two-step process: be admitted into the Graduate School at UNO, then into the MAT program. A minimum GPA of 2.5, GRE Scores, the PRAXIS I, ACT, or SAT scores, and the PRAXIS II 5018 OR 5001 are required for admission.
The NCTQ Graduate Elementary Education Program was ranked #165 and the cost per credit is a decent $1268.
15. University of Chicago
Founded in 1890 by philanthropist John D. Rockefeller, the University of Chicago is home to over 5,800 undergraduate students and 9,800 graduate students. The University offers 49 majors and 40 minors. Located in one of the world's greatest cities in the Hyde Park neighborhood near Lake Michigan, the University of Chicago is invested in the local community. "Crescat scientia; vita excolatur, Let knowledge grow from more to more; and so be human life enriched," a motto true-to-life.
If you have a passion for teaching and look to find the best program regardless of length, UChicago is looking for you. The UTEP Elementary Program is seeking candidates with "persistence, habits of inquiry, the capacity to lead, and a long-term commitment to social justice and educational equity in urban schools." The UTEP Program is a two-year program that leads to a MAT and Illinois initial Teaching License. The two years are robust, beginning with the first year of training in educational pedagogy and content where you will take four to five courses per semester. The second year is a full-year of student teaching, more than the typical five to six week internship; and this full-year is the distinction that UChicago's UTEP program promotes.
Unique on our list, UChicago continues to support graduates who teach in Chicago schools for three more years with workshops, special coaching, teacher-leadership training, and more at no cost. UChicago's UTEP program has the student in mind from start to finish plus three years. The 6:1 student to faculty ratio gives you the benefits of personal attention under a mentorship model. Tuition is $1423, making UChicago's excellent program within reach.
16. University of Michigan—Ann Arbor
The University of Michigan in Ann Arbor, Michigan was founded in 1817. U-M is a "Public Ivy" with an emphasis on research; the School spent $1.29 billion in 2015, the most of all universities. Not only is U-M dedicated to inquiry, they excel at service; for the 14th consecutive year, they earned a spot on the Peace Corps' list. Since the agency was created 53 years ago, 2,556 Michigan alums have served, making it the fourth best all-time producer of Peace Corps volunteers. U-M serves 44,000 students, offering over 200 undergraduate majors, 100 doctoral and 90 master's programs.
The School of Education at U-M offers the Elementary Master of Arts with Certification (ELMAC) program. U-M's ELMAC aims to develop competencies to engage diverse learners, reflective tools to think deeply to improve your teaching, and a drive to work toward all students learning. Upon graduation from the program, you will be recommended for Michigan's teacher certification grades K-8; The MTTC Professional Readiness Exam (PRE) and subject area tests are designed and administered by the Michigan Department of Education. Degree specifics include a full-year June to June of studying and practicing what you study in a classroom. In fact, you begin in June take three courses, and in late August you are placed in a local school and begin learning with a mentor teacher. You then work with the cooperating teacher throughout the year, taking on increasing responsibilities, as you travel through coursework and seminars with your 20-25 student cohort.
The intense focus and experiential emphasis at U-M have earned them a rank of #2 from U.S. News and World Report's "Best Graduate Education Schools." On top of this, the student to faculty ratio is 12:1. This quality, though, has to be paid for. Tuition is the second highest on our list at $2784.
17. Truman State University
Truman State University in Kirksville, Missouri, offers 6000 students about 50 undergraduate and 10 graduate degrees. The public liberal arts university is a member of the Council of Public Liberal Arts Colleges and prides itself on this distinctive. Student life is active with over 240 student organizations, Greek life, and 20 men's and women's athletic teams.
"Deep and rigorous content knowledge coupled with an emphasis on reflective practice" is the Master of Arts in Education program at TSU. The Program is 12 months ending in licensure for the state of Missouri. Candidates are recommended to have a strong undergraduate liberal arts core, and if not, may be asked to take prerequisites in addition to the 40 credits required. Curriculum moves quickly from summer to summer through classes like Literature for Children, Psychological Foundations of Education, Basic Statistics, and Concrete Behavioral Foundations of Mathematics. Student teaching is eight credit-hours and is full-time for a semester. Please note that you can pursue your teaching internship through a study abroad option in China or Germany. Also that the federal TEACH Grant is available at TSU for those with a long-term commitment to teaching in challenging schools.
An NCTQ rank of #299 shows room for growth in terms of their analysis. Financially though, Truman is a strong choice for the short term, tuition is $601, one of the lowest on our list, and the long term, with a $80,600 mid-career salary.
18. The Evergreen State College
With "Let it all hang out" as a motto, you know The Evergreen State College in Olympia, Washington is different. Formed in 1967, The Evergreen State College is non-traditional. The School offers over 60 fields of study to explore with no formal majors; rather, students choose interests and receive interdisciplinary degrees. The ESC offers three graduate programs in Environmental Studies, Public Administration, and Teaching. All in all, a unique niche-world of its own, the College serves 4000 students.
"Plant the seeds of justice. Become a teacher." At The ESC, their graduate program in teaching prepares you to teach all children with social justice, equity, and open-mindedness. The MiT, Master's in Teaching program is guided by uniquely Evergreen's conceptual framework. The 96 quarter-credit program lasts two years: Year one involves coursework and practicum experiences and year two is essentially student teaching with some winter coursework. Please note, the cohort model, called community learning at Evergreen includes coursework topics, not traditional classes. Topics include learning theories, educational research, classroom management, models of teaching, and differentiated instruction, for example. You then receive narrative evaluations instead of grades from faculty. There is a Master's Project, writing and research, included in the Degree as well.
The price of Evergreen is one of the most affordable on our list at $774 per credit. The School is the second lowest cost in the State of Washington. Also note that the last three years teacher placement was 100 percent, 97 percent, and 100 percent respectively.
19. Loyola University Maryland
Eight Jesuits established Loyola University Maryland in 1852. The Catholic liberal-arts school is located in Baltimore, Maryland on 80 acres featuring Collegiate Gothic architecture. Jesuit values such as academic excellence, the importance of the liberal arts, and the education of the whole person still inform the mission. Loyola serves 6000 students and offers 35 undergraduate and nine graduate programs.
If you have Bachelor's degree, but not in education, and are seeking to enter the fascinating and joyful world of elementary school, Loyola's Master of Arts in Teaching, Elementary Grades 1-6 program is for you. The University requires an undergraduate major in one of the four content areas (mathematics, science, English, or social studies, or another closely related area) and/or a well-rounded liberal arts background. The 38-credit program can be taken full- or part-time giving you flexible options should you need to continue working. Courses include Introduction to Special Education, Foundations of Education, Learning Sciences, Teacher Research and Inquiry, and more. The student teaching components include two internships. The first is a one to two half-days a week for a semester, and the second is five days a week teaching full-time for a semester.
Loyola makes financial sense. They offer the third lowest tuition of our 30 ranked schools at $565 and have a respectable $102,000 mid-career salary. You will not only get a good deal, you will learn with an 11:1 student to faculty ratio.
20. Frostburg State University
"Frostburg State Normal School No. 2" opened in 1902 with 57 students. Today, it has grown and developed into Frostburg State University located in Frostburg, Maryland. There are many academic options, 48 undergraduate majors, 13 master's degree programs, one doctorate program, and several online programs. FSU emphasizes education, business, science and technology, and the arts.
The MAT in Elementary Education at FSU is ideal for those who hold a Bachelor's in a non-education field but seek to teach in public schools. The FSU MAT leads to full licensure in the State of Maryland in 12 months. Program features include 100 days of the school year in teaching practicum where your mentor teacher helps you learn in real-time, small classes maximizing collegial interaction, and expert faculty who hold the highest degrees in their respective field. Classes such as Principles and Practices of Research, Developmental Theory and Experiential Growth, and Adapting Instruction in Diverse Classrooms equip you with best-practices and time-tested theory to be successful on day one. Admission requires certain prerequisites in your undergraduate education, please double-check this, a minimum 3.0 GPA, passing scores on the Praxis Core Academic Skills for Educators Test, a portfolio, and an interview.
The NCTQ ranked FSU's graduate elementary program #260 indicating room for improvement, however, FSU is an affordable option at $1012 per credit. Student to faculty ratio is also an advantage at 15:1.
21. North Carolina State University
North Carolina State University forms a leg of the Research Triangle in Raleigh, North Carolina with Duke University and the University of North Carolina. At 33,755 total students, NC State has the largest student population in the Carolinas. The School offers hundreds of undergraduate and graduate degrees from 10 colleges representing all major academic fields. They also have a very active student life, with over 900 student organizations, and strong athletics.
With one and half years of hard work and determination, you can earn your Master of Arts in Teaching and license to teach in North Carolina. The MAT program at NC State, accredited and reputable, is delivered in a hybrid model giving it a convenience that works for many. The philosophy of NC State's training includes child-centered pedagogy, social-justice disposition, and evidence-based instructional strategies. Admission does not require a GRE if you have a GPA over 3.0, but does require a number of prerequisites for the Elementary MAT program. The 33-credit program includes 15 credits of core courses such as Principles of Developing and Interpreting Assessment and Classroom Action Research, and 18 credits in specialty courses such as Principles of Developing and Interpreting Assessment and Instructional Practices in Schools.
NC State's education is convenient and flexible and is respected by employers. Financial considerations include a $129,000 mid-career salary, among the best on our list, and a slightly higher tuition of $1709 per credit.
22. East Tennessee State University
What began with a few students in 1911 as East Tennessee State Normal School is now a bonafide University with 14,500 students. East Tennessee State University is located in the northeastern tip of the state bordered by Virginia and North Carolina in Johnson City, Tennessee. Listed by The Princeton Review as one of "America's Best Value Colleges," the School prides itself on a quality education at an affordable price.
AT ETSU, the Department of Curriculum and Instruction offers a Master of Arts in Teacher Education, Elementary Track Grades 1-5. Designed particularly for those with Bachelor's seeking a master's and certification, the program can be completed in 18 months. Courses and experience are often effectively blended together, for example, Foundations in Education: Building a Community of Learners is coupled with 20 hours of fieldwork and Classroom and Instructional Management K-12 is linked with a 50-hour experience. These courses and more, lead to the 120-hour internship, called Reasoning Block Clinical Field I and the final student teaching experience in the spring semester of year two. All in all, the program sequence is constructed to prepare you for student teaching and to manage your own classroom as effective as an experienced teacher on day one.
One of the most affordable schools on our list at $546 per credit, ETSU is a financially wise choice. Yet, it is not cheap as the educational quality is there. The NCTQ ranks the University at #345.
23. Virginia Commonwealth University
"Make it real." This unique model comes alive at Virginia Commonwealth University. Located in the heart of Richmond in the historic center of our nation near Colonial Williamsburg and Washington D.C., VCU is an urban research institution. Founded in 1838 as the medical department of Hampden–Sydney College, the University now serves 31,000 With more than 31,000 undergraduate, graduate and professional students, the university offers 223 certificate and degree programs in the arts, sciences, and humanities.
The best teachers understand the child from behind their eyes. The MAT program at VCU in Elementary Education is a 33-34 credit degree that leads to licensure. Admission requirements include a Bachelor's degree (with certain prerequisites for the program), three letters of recommendation, purpose statement, GRE scores, and some additional requirements through the School of Education as well. Some examples of courses are Human Development and Learning, Child Psychology, Classroom Management in Elementary Schools, and Diagnosis and Remediation in Reading. There are four total practical experiences, two practicums, and two internships. In addition to these, a unique aspect of VCU's teacher training includes a minor in philosophy, religious studies, or African American studies.
The NCTQ rank of #125 for Graduate Elementary Teaching programs is an indication that VCU's training is effective. The tuition, however, is the second highest on our list at $2327 per credit.
24. Boston College
Boston College, the first institution of higher education to operate in the city of Boston, was established by Jesuits in 1863. The private Catholic College is respected for academic excellence in the liberal arts and scientific research and inquiry. BC has 14,000 total students who enjoy "the Heights", the main campus designated as a historic district and adorned with green spaces and paths surrounded by Collegiate Gothic architecture.
In step with BC's Jesuit tradition and philosophy, the MAT in Elementary Education focuses on a "humanistic approach to teaching that is both developmentally appropriate and intellectually challenging." This philosophy is woven into your training through an emphasis on social justice, teaching students from diverse backgrounds and worldviews, and evidence-based instructional strategies. When you've completed all requirements satisfactorily, BC will recommend you for licensure; you must apply directly to the state for licensure and pass the Massachusetts Tests for Educator Licensure. Fieldwork is important with action research projects, urban immersion site-based courses, and field placement for pre-service candidates. This program consists of 12 courses and practicum, for a total of 34 credits and can be completed in 12 months and part-time in two to three years.
U.S. News and World Report ranked BC #15 in "Best Graduate Elementary Education." The student to faculty ratio of 14:1 is conducive to peer to peer interaction. Tuition is $1364 per credit.
25. Washington State University—Vancouver
Washington State University Vancouver is one of six campuses of the Washington State University system. It is located in Vancouver, Washington, eight miles north of the Columbia River, about 20 miles from Portland, Oregon. The beautiful setting of the 350-acre campus has views of Mt. Hood and the Pacific Northwest. WSU Vancouver offers "big-school resources in a small-school environment" with 20 bachelor's, eight master's, and three doctorate degrees for 3500 students.
Taught by nationally recognized scholars, the WSU Vancouver Master in Teaching (MIT) Elementary (K-8) Endorsement leads to licensure in Washington State. The 56-credit program can be completed in 15 months full-time and 27 months part-time. The curriculum of the program follows traditional schools of education in preparing you with the educational knowledge of children, instruction, assessment, classroom management, and integrating technology; and, at WSU Vancouver you will spend a full year of student teaching, more than the typical one semester. There is particular attention given to faculty, student, and mentor collaboration in both the program and professional networking. Admission is selective and requires a minimum 3.0 GPA along with prerequisites (general education) and passing WEST-B/SAT/ACT scores.
With a personalized teaching environment, top faculty, and an NCTQ rank of #312, WSU delivers quality results. When considering the financial picture, something always a priority for potential students, the tuition is a reasonable $1260.
26. University of South Florida
The University of South Florida in Tampa, Florida is a public research university growing better every year. This last year the economic impact was considerable at $4.4 billion. In terms of research, USF is rising fast; it is now one of 40 public research universities in the nation with a Carnegie-designated "very high research activity" and is 41st in the nation for research expenditures. The 49,000 students choose from 180 undergraduate majors and concentrations as well as over 40 graduate programs.
If you are seeking an Elementary Education/ESOL license, but have not been through a teacher program, and you have a Bachelor's, USF's MAT program could be a fit. Designed for those who wish to earn a master's and certification, the program moves quickly through four of five semesters. Students learn best practices in classroom management, assessment, pedagogy, and the most up-to-date research-based knowledge of child psychology and educational issues. The MAT at USF requires all students to complete an inquiry-based professional development project as a comprehensive exam. Something else to recognize, and that we at Best Education Degree find significant, is the amount of fieldwork and student teaching. You'll be pleased to know that USF requires a full-year of residency in a school, giving you the experience you need to apply what you've learned and to be successful in your own classroom.
Tuition is one of the lowest five on our list at $771 per credit. The mid-career salary is one of the highest at $114,000. All in all, an affordable choice and a robust student teaching experience put USF on our top 30.
27. University of South Carolina
In 1801, the Palmetto State established South Carolina College in Columbia, South Carolina as part of an effort to unite South Carolinians in the wake of the American Revolution. Today, the University of South Carolina is a flourishing and top-ranked university with approximately 33,770 students and a $625 million endowment and are one of only 32 public universities to earn the Carnegie Foundation's top-tier designations in research activity and community engagement.
Certification for Grades 2-6 in South Carolina and a Master of Arts in Teaching from USC's College of Education are yours with hard work and persistence. The 51-credit program is chocked full of educational knowledge, skills, and best practices that form graduates ready to excel on day one. Courses include Curriculum and Instruction Practices Designed to Teach Content and Literacy Across the Curriculum, Human Growth and Development, Foundations of Reading Instruction, The School in Modern Society, and more. There are six credits of electives and a full year of student teaching, something noteworthy for the formation of highly-qualified teachers. In addition, there is a comprehensive exam at the end of the program. Be sure to check for specific pre-requisites and compatibility with your Bachelor's prior to applying.
The financial outlook is attractive at USC for the short and long term. Tuition is an affordable $1142 per credit and the mid-career salary is $129,000.
28. University of Minnesota—Twin Cities
The University of Minnesota in the Minneapolis and Saint Paul, Minnesota was founded in 1851 as one our land-grant universities. Research plays a central role in the School's mission; Carnegie classifies the U as a "highest research activity" institution. UMN is the flagship campus of the University of Minnesota System and has sister campuses in Crookston, Duluth, Morris, and Rochester. This prestigious university has 30,500 undergraduates and 16,300 graduate and professional students making it the sixth largest in the nation.
UMN has options for undergraduates, teachers who have a license, and those who have a non-education Bachelor's but now feel called to teach in public schools. The MEd and License track is a 15-month program that trains teachers who make a difference, understand children, and inspire achievement. The curriculum moves from general education related knowledge about child psychology, education and diversity, curriculum and instruction, assessment, and classroom management to specific elementary education courses like children's literature and teaching science to elementary students. Student teaching is the conventional one-semester mentor model. Another notable about the program is the option to a minor, with several to choose from: Applied Psychology, Autism Spectrum Disorders Certificate, Teaching English as a Second Language, and Family Science.
The program quality of UMN and the resources of the large university are factors that contribute to the higher tuition of $2093. The mid-career salary of $141,000 is also high giving assurance the ROI is still favorable.
29. Wayne State University
Wayne State University is a public research institution located in the Midtown Cultural Center Historic District of Detroit, Michigan. The University enrolls about 28,000 students who choose from 340 degree and certificate programs delivered through 13 schools and colleges. Research and business are important at WSU; TechTown, the School's research park, and business incubator have created over 1100 jobs since 2007.
The College of Education at WSU offers a splendid opportunity to move from a non-education Bachelors to holding a master's degree and teaching license. The MAT in Elementary Education program prepares you to teach with confidence and skill. The Program has two minor tracks as well, English as a Second Language and Bilingual-Bicultural Education, both end up as endorsements making you more hireable and skills at teaching all learners. At WSU the plan of work is 52 credits, which is higher than other schools and 15 credits for the minor. Courses include Analysis of Elementary School Teaching, Children's Literature for New and Prospective Teachers, Philosophy of Education, and a Master's Essay or Project as a capstone research work. Admission to the program requires passing the State Basic Skills Test, a Bachelor's that adequately fulfills prerequisites, and a minimum undergraduate GPA of 2.75. When all's said and done you will have a Michigan Provisional Teaching Certification at the elementary level grades 1-5.
Tuition at Wayne State University is middle-of-the-road at $1429. Even though the school is quite large, the student to faculty ratio of 16:1 is quite good. Long-term investment is also promising with a $111,000 mid-career salary.
30. University of California—Santa Barbara
Set in sunny Southern California on 1,022 acres near Isla Vista, California is the University of California Santa Barbara. UCSB enrolls 23,500 students and offers more than 200 majors, degrees, and credentials through five schools and the Graduate Division. UCSB is a member of the prestigious Association of American Universities and known for pioneering research.
In two summers and three semesters, you can earn your MEd and California teaching credential at UCSB. This accelerated program is intense, though, and requires motivation and determination to complete in one-year; those admitted have a four-year limit. The Teacher Education Program (TEP) offers a cohort-style model of about 40 students. You will move through core classes and professional training together, increasing peer to peer as well as faculty to student interactions; your cohort provides support during student teaching as well. THe MEd option does include a research component, where you "learn to design a classroom-based research project, collect and analyze data, and compose the theoretical framework for your work." You can also choose to complete a four-week international student teaching practicum Denmark, Singapore, or Switzerland.
The quality of education at USCB is recognized and respected; The NCTQ score is #88. If tuition wasn't so high, unfortunately, is the top on our list at $3740, USCB would rank even higher.