Education is a high-stakes field. The future of our democracy depends on how we train the next generation. Benjamin Franklin's proverbial wisdom rings true as it did in Colonial times: An investment in knowledge pays the best interest.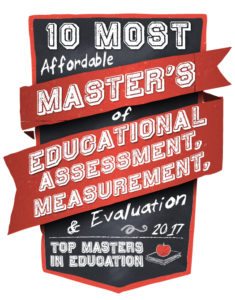 Right now, the need for accountability and assessment is high. With the growing globalization and digital revolution, the demand for data-driven analysis is becoming a necessity. In the field of education, those who design, create, and analyze tests and data-collection systems are vital to long-term success.
Those who work in the field of educational assessment go by various titles: Educational psychologists, statisticians, research analysts, or psychometricians.  If you are a data-driven person, with a desire for applying your skills in the field of education, a Master's of Assessment is the degree you'll need to that.
The Master's of Assessment, Measurement, and Evaluation was an originally a psychology degree.  With today's explosion in testing, however, the degree has expanded into other fields.
The Master's (MEd, MA, or MS) in Educational Assessment, Measurement, and Evaluation focuses on the assessing a school's effectiveness, as well as individual students, through assessment tools, psychometrics, qualitative and quantitative research, statistics, and evaluation.
There is not a one-size-fits-all job in the field, as there are positions in leadership, on teams, with a focus on the institution, dealing with a particular school population such as special education, and more.
What is for sure though is the need for these jobs:  Our 16,000 school districts in all 50 states, in collaboration with many private companies and non-profits, collect vast amounts of data and information that requires design, collection, and analysis.
What goes into a Master's in Educational Assessment, Measurement, and Evaluation (EAME)?
Typically a Master's in EAME is interdisciplinary. This means it draws from sociology, psychology, education, research, and statistics, for example. Typically EAME degrees are through schools of education. However, sometimes it is through the department of psychology in collaboration with the school of education.
The EAME degree seeks to impart knowledge and skills of assessment and evaluation to be applied both individually and institutionally.  Should you earn your EAME degree you will be able to work in a variety of settings, all forming the complex network that goes into educating our youth from K-12 schools, institutions of higher learning, government agencies, testing companies, and the corporate world.
Some specific courses that are required for the degree are:
classical test theory
psychometrics
qualitative/quantitative  research
foundational/advanced statistics
multivariate analysis
designing evaluation instruments or technology
educational ethics
foundations of educational assessment
Total credits for the EAME degree typically fall between 30 and 45 credits and includes a final research project or masters' thesis that draws from the whole program to make a real-world application.
It is important to note that there are a few degrees that fall under the EAME umbrella: Educational Diagnostics (this application of educational assessment is applied in special education for individuals), Curriculum and Instruction, and Educational Leadership that combines with courses in educational measurement and evaluation. Visit our ranking of the Most Affordable Online Master of Arts in Teaching Degrees for programs with an emphasis on classroom teaching.
What is the job outlook for an EAME degree?
There will be a continuing need for highly-skilled people who know how to design, collect and analyze data and information in our schools.
The American Statistical Association and the National Science Foundation both confirm this, as well as the Bureau of Labor Statistics.
The BLS records the field will grow 27 percent from 2012 to 2022.   They go on to say, "Growth is expected to result from the more widespread use of statistical analysis to make informed business, healthcare, and policy decisions."
If you have a desire for work in educational assessment and graduate with an EAME degree, you will have the option of working in multiple areas:  schools, government agencies, school districts, marketing research, and large-scale test management, testing companies, non-profits, and even the corporate world.
Possible jobs and median salaries (according to Payscale or Bureau of Labor Statistics) include:
Director of Assessment and Accreditation - $73,099
Postsecondary Education Administrators - $90,760
College and university professors - $84,632
Psychometricians - $78,603
Assessment and Education Researcher - $64,650
Research Analyst- $51,754
Educational Diagnostician - $57,857
Quality Assurance Manager  - $74,921
Statistician- $80,500
What are the best EAME degrees?
The best EAME degrees are those that fit with your career goals, time-schedule, and financial situation.
Most people seeking an online EAME program want to advance in their careers while continuing to work. If that's where you're at, online degrees are a great place to start.
If you want to keep the options open for a PhD, be sure to check if the EAME degree is terminal or not (often times MA degree are but MS degrees are not). If career advancement is possible with only a graduate certificate may work; check with your current employer to make sure.
If your goals are to move into leadership, look for EAME programs that combine educational administration and leadership with assessment and evaluation.
If data is your thing, such as designing systems of collection and analysis, organizing information, and working with statistics, look for courses such as statistics, multivariate analysis, psychometrics, and quantitative research.
What is your methodology for ranking the schools on the list?
For all our rankings, we utilize a methodology that depends on statistics.  Our sources include the National Center for Education Statistics found in the IPEDS database.
We choose relevant areas such as graduation rate, endowment per student, and tenure, depending on the specific ranking. With these reliable statistics, we then begin our search for schools with an excellent reputation.
For this ranking, we utilized U.S. News and World Report and the National Council on Teacher Quality (NCTQ).  For average salaries and job outlook we use Payscale and the U.S. Bureau of Labor Statistics, though, for this ranking, the American Evaluation Association was also used. Program descriptions are written based on the school's website for the degree.
For the 10 Most Affordable Master's in Assessment, Measurement, and Evaluation we solely compared cost per credit hour.  The only programs considered were programs that offer a master's degree.  Certificate programs were not included, although they are included in the online ranking.
1.The University of Illinois at Chicago
Set in 240 urban acres in Chicago, Illinois, is the University of Illinois at Chicago.  "Dedicated to the discovery and distribution of knowledge" the University enrolls 29,000 students.   Academic options are plentiful as UIC offers 85 bachelor's, 98 master's, and 65 doctoral degrees.
The online Master of Education in Measurement, Evaluation, Statistics and Assessment at UIC is convenient, flexible, rigorous and affordable.  The degree will train you to work in a variety of settings from schools, government agencies, to non-profits and the corporate world.   The program can be completed in two years at a part-time status and is a total of 32 credits.  At UIC, the MEd in MESA has guided four major psychometric paradigms: Item Response Theory, Rasch Measurement, Generalizability Theory and Classical Test Theory.  Delivered with outstanding and nationally-known faculty makes the online experience and learning equal to a traditional degree.  This program is ideal for experienced professionals or those with no experience.  There are no campus visits required to complete the degree.
UIC's reputation is rock solid.  Ranked #24 by U.S. News and World Report for Best Education Schools and #10 for Best Graduate Online Schools adds credence to the program for you and your future employer.  Tuition per credit is the lowest on the list at $351, hence our #1 most affordable school.  Knowing the mid-career salary is $102,000 is like the cherry on top.
2. Georgia State University
Georgia State University is the largest institution of higher learning in the University System of Georgia.  GSU is located in Atlanta, Georgia giving the diverse 53,000 students many opportunities for internships, cultural events, and extracurricular excursions.  Choices are part of such a large school with over 250 degree programs through nine schools and colleges.
At GSU the MS in Educational Research is delivered through the Georgia ONmyLINE (GOML). The MS program combines dependability, convenience, flexibility, and affordability.   Should you choose GSU you can count on the most relevant knowledge and skills in qualitative research, quantitative analysis, educational statistics, survey research, computer applications, and educational measurement and evaluation.  One aspect the School takes pride in is program quality: you can depend on the same quality of teaching and learning as the on-campus degree.   Once you complete the 36 credits, you will have the degree in hand that will lead to opportunities in educational research in academic settings, state or federal agencies, testing services, healthcare, and more. Also be sure to note that if you have any previous courses, GSU accepts up to nine transfer credits and that should you be interested in pursuing a Ph.D. later the MS degree is not terminal.
Georgia State University's tuition is $385 per credit.  This second-lowest tuition is improved by the fact that GSU's mid-career salary is $126,000.  The University is accredited by the Commission on Colleges of the Southern Association of Colleges and Schools (SACS).
3. University of South Florida
The University of South Florida is located in Tampa, Florida.  USF also educates through their two regional campuses in Sarasota-Manatee and St. Petersburg. Founded in 1956, USF now serves 42,000 undergraduate and graduate students.  The University is known for many excellent programs, among those: Information Technology, Engineering, Business, and Education.
The Department of Educational Measurement & Research offers master's, specialist, and doctoral degrees (M.Ed., Ed.S., and Ph.D.) in Measurement and Evaluation.  There is also graduate certificates in Evaluation, Qualitative Research in Education, and Quantitative Research in Education.   The MEd in Measurement and Evaluation is for those who want to enter the world of educational leadership.  Part of your training at USF is geared to learning educational policy and practice at the local, state, national, and international levels.  Courses include measurement, statistics, evaluation, metaevaluation, research design, qualitative methods, mixed methods, and systems planning.  Graduates go on to a variety of positions in multiple fields.  The 37-credit program is delivered by highly-qualified faculty and state-of-the-art facilities including the Hough Measurement and Research Lab.
With USF's combination of affordability and excellence, it is worth a look.  It ranked #93 in Best Education Schools by U.S. News and World Report.  The $431 cost per credit is low, and the average mid-career salary is $114,000.
4. University of Illinois - Urbana-Champaign
The University of Illinois - Urbana-Champaign's mission is: "With our land-grant heritage as a foundation, we pioneer innovative research that tackles global problems and expands the human experience."  At UI over 40,000 students benefit from this focus through 17 colleges that offer more than 150 programs of study.
The College of Education at the University of Illinois - Urbana-Champaign offers a Master of Education in Measurement, Evaluation, Statistics, and Assessment or a graduate certificate in Educational Research Methodology. The  32-credit program is offered completely online with no campus visits.  Faculty are nationally recognized and provide the same quality of teaching as the on-campus degree.  Courses include Item Response Theory, Rasch Measurement, Generalizability Theory, Classical Test Theory and Hierarchical Linear Modeling.  In addition to setting you up to earn excel in the private or public sector, the degrees lead nicely into a Ph.D. as well.  All in all, a UI online degree will give you the flexibility and convenience you need to succeed at a very affordable price.
When looking at schools to complete your educational assessment degree, UI is certainly cheap at $452 per credit.  A closer look, however, illustrates that at the University of Illinois - Urbana-Champaign, quality has not been sacrificed.  UI ranked #24 in Best Education Schools and 63 (out of 100) for Overall Score by U.S. News and World Report.
5.  University of Iowa
The University of Iowa in Iowa City, Iowa was founded in 1847.  The 31,000 students at U of I are offered more than 200 different academic areas of study through 11 colleges.  Whatever you choose to study at UI, the fact is that "every single Hawkeye learns how to build their own path and bravely go wherever it leads."
At UI, there are multiple options for their MA in Educational Measurement and Statistics.  The MA is offered online or on-campus, and in a thesis and non-thesis version.  The Program is 32 credits and all forms include a comprehensive exam.  Should you be interested in pursuing a Ph.D., the thesis version is recommended.  Whatever you choose, the MA will prepare you with the theoretical and practical knowledge of statistics, measurement tools and systems, educational psychology, and educational measurement to succeed.  Courses in include Introduction to Educational Measurement, Intermediate Statistical Methods, Computer Packages for Statistical Analysis, Design of Experiments, and more.  With your degree in hand, you will be ready on day one to work in school districts, academic institutions, testing companies, and more.
The ROI at UI outstanding;  UI has a $504 tuition and $120,000 mid-career salary.  Their reputation for quality can also add confidence to your investment:  U of I is ranked #43 by U.S. News and World Report for Best Education Schools.
6.  Northern Illinois University
Founded in 1895 and located in DeKalb, Illinois, Northern Illinois University serves 19,000 students. The University has satellite centers in Chicago, Hoffman Estates, Naperville, Rockford, and Oregon. NU offers 57 undergraduate majors and 69 graduate programs giving students many choices.
The MS in Educational Research and Evaluation is offered face-to-face, online, and hybrid.  The 36-credit program features the most relevant courses in qualitative statistics, statistical analysis, education policy, and in research design and evaluation.  The MS includes a practical experience and comprehensive exam; the final project is a research-based thesis, project, or portfolio.   The online program is designed for working professionals seeking to complete their education while continuing employment.  Though this is the case, students will no experience in the field can be admitted; up to 15 transfer credits can apply towards your degree at NIU as well.  Admission requirements include a bachelor's degree, minimum GPA of 3.0, and a GRE score of 300.
Knowing that NIU is ranked #4 by U.S. News and World Report for Best Online Graduate Education boosts the assurance of quality.  Adding to a solid reputation the low $520 tuition and a mid-career salary of $114,000 makes NIU a school worth considering.
7.  Western Michigan University
Founded in Kalamazoo in 1903, Western Michigan University offers more than 150 degree programs to 23,500 students.  WMU's campuses encompass 1,289 acres and 170 buildings, including some state-of-the-art buildings such as education, science research, and the visual and performing arts facilities.
The Department of Educational Leadership, Research, and Technology at WMU offers an MA in Evaluation, Measurement, and Research. The 27-credit degree can lead to positions in schools, districts, government agencies, testing companies, and non-profits.  The program consists of courses such as Fundamentals of Evaluation, Measurement, and Research, Introduction to Measurement in the Behavioral Sciences, Data Analytics I: Designed Studies, Qualitative Research Designs, Contemporary Trends in Research, and more. After coursework is completed, a capstone portfolio experience is required; the portfolio is designed to demonstrate an application of the knowledge, theory, principles, and skills learned from the core courses.
Though more unknown that other big-name schools on our list, WMU is something worth considering.  In our day of rising college costs, the ROI at WMU is favorable;  tuition is $554 and the mid-career salary is $98,500.
8.  National Louis University
National Louis University offers over 60 undergraduate programs through two colleges to 8000 students.  Their mission is "to provide a superior and supportive educational experience for students of all ages and backgrounds."  NLU's main campus is in Chicago, Illinois, but the University also has locations in and near Chicago, as well as in Wisconsin, Florida and Nowy Sącz, Poland.   They have historically had strong education programs.
The MEd in Teaching, Learning, and Assessment at NLU  "prepares master's degree candidates to respond to these complex realities with a holistic approach to assessing learning needs, shaping effective curricula, and supporting student success."  The TLA program is offered online, on-campus, or blended for maximum flexibility.  The Program also comes with the great option of adding the Teacher Leader Endorsement if you're interested in applying assessment and evaluation to educational leadership.  The TLA does lead to National Board Certification. Educational outcomes of the program include leadership in differentiated learning, an expert at assessment, action research skills, and a leader in institutional improvement.  Admission requires two years teaching experience, and the program does require a year-long research project.
The $685 tuition combined with the mid-career salary of $74,600 makes the ROI worth it.  Convenience, affordability, and flexibility are certainly attractive; if the specific focus of assessment and leadership is for you, NLU may just be the perfect fit.
9. University of Florida
With a dedication to research and knowledge, University of Florida offers 53,000 students hundreds of options.  They also enjoy 200 research, service and education centers, bureaus and institutes.  Certainly important is the fact that 56 percent of students graduate with no student loan debt.
The College of Education offers the flexible online MA in Education of Research and Evaluation Methodology with a major in Program Evaluation in Educational Environments. The convenient degree features a focus on theory-based practices and knowledge for researching, assessing, and applying evaluation in educational settings, but can also be utilized in public health and medicine, social work, non-profit organizations, and businesses. A glance at the curriculum includes Designing and Conducting Qualitative Research, Evaluation of Educational Products and Systems, and Evaluation Communication and Ethics in Educational Environments.  The MA degree does require a master's project. Admission includes a statement of purpose, letters of recommendation, relevant work and life experiences, undergraduate GPA and GRE scores, not required, but preferred.
Overall, UF has a ton to offer.  Specifically for this degree, it's worth noting the #1 ranking from US News and World Report for Best Online Graduate Education.   Their tuition per credit is $690, which is very affordable, but even more attractive is the average mid-career salary of $152,000.
10.  University of North Texas
Established in the late 19th century, when the Normal Building was surrounded by a fence to keep out livestock, the University of North Texas has expanded incredibly.  UNT is currently one of America's largest public research universities.  The University offers 37,000 students over 200 undergraduate and graduate degrees.
UNT's MS in Educational Psychology, Concentration in Research & Evaluation is offered entirely online.  The Degree is designed to prepare graduates for careers in educational institutions for both individual and institutional improvement. With the 100 percent online program, you can take classes part time or full time as you see fit.  The MS can be completed in as little as 15 months, though many choose to space it out more to maintain their current work schedule. Courses include the fundamentals of assessment of individuals and programs, research, evaluation and analysis, and descriptive and inferential statistics.  With robust empirical statistical analysis skills, you will be able to an agent of positive change at schools or other institutional settings.
Adaptability and affordability are the two words to describe UNT's online degree in research and evaluation.  The $710 per credit and $113,000 mid-career salary makes the investment well worth it. Adding the U.S. News and World Report #13 ranking for the Best Graduate Online Schools highlights that UNT is a solid choice.