With a MAT in Elementary Education in hand, you will be prepared to teach in public school as an expert who is confident and can respond to any and every demand. You will be able to walk in on day one with a plan of action, the ability to manage as many as 30 bright and energetic children, the communication skills for parent-teacher conferences, the indispensable ability to assess a variety of learners in our multi-cultural world, and the skill to prepare content for the elementary level. This effective and exceptional training is the most important outcome of earning your MAT because that's probably what has driven you to make the sacrifices to achieve it!
The University of the District of Columbia provides nine outcomes based on the Divisions Conceptual Framework, CAEP Standards, the INTASC principles, essential knowledge, skills, and dispositions.
demonstrate a thorough knowledge of the subject matter to be taught and skill in applying the basic principles of teaching and learning in a primarily urban community setting;
demonstrate a command of fundamental communication skills and skill in effectively communicating diverse perspectives;
utilize classroom and behavior management techniques that nurture a positive learning environment that enhances the growth and development of all students;
create developmentally appropriate objectives in terms of expected outcomes that meet the needs of diverse learners;
design, implement, and assess developmentally appropriate teaching and learning activities utilizing performance criteria with a variety of assessment techniques;
integrate into the learning environment activities that are inclusive such as:

respect for the learner as an individual by considering differentiated learning needs, abilities, and ethnic and cultural backgrounds
a commitment from the student to meet challenges and high academic expectations while exacting a commitment from the students to strive to meet high expectations;

design and apply technology applications that are appropriate for diverse learners in the classroom to meet the demands of the global society;
pursue ongoing knowledge and professional growth to enhance student achievement;
cultivate a high level of social and emotional maturity and a sense of professionalism in collaborating and communicating with students, colleagues, school administrators, parents, and members of the school community at large.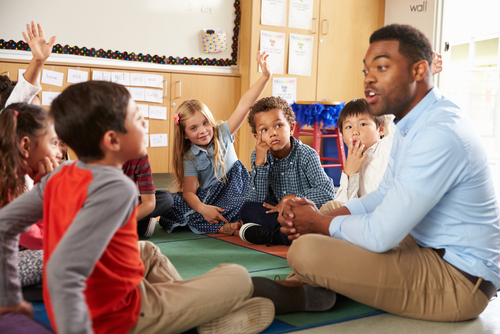 Earning your MAT in Elementary Education is more than just preparing you to teach well, it is a chance to gain valuable allies and to network with fellow educators. The students, faculty, and mentor teachers you meet along the way may prove to be future colleagues, experts in their field who can impart wisdom, and may connect you to leaders or schools who may want to hire you. With a master's degree, you
will be respected; schools are looking for teachers with advanced degrees.
So, a MAT will help you get a job doing what you love, and even more, it will get you earning more money than if you only had a bachelor's. Job salaries and master's compensation vary greatly from state to state, but a person with a masters always earns more. The Council for State Governments put out an excellent article about teacher pay and master's degrees.  "Teachers with advanced degrees earn 10 percent more, on average than those with bachelor's degrees in the U.S. According to the most recent data from the U.S. Department of Education's National Center for Education Statistics, a teacher with a master's degree and no teaching experience in the U.S. will earn nearly $3,000 a year more than a teacher with just a bachelor's degree. After 10 years, the average annual salary gap between teachers with master's degrees and those with bachelor's degrees is $4,500." (Click here for source, and scroll to page four to find out specifics for your state.)