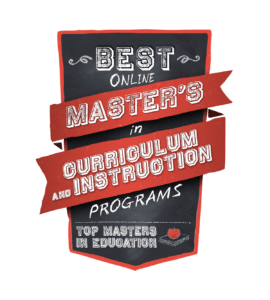 After a few years in the classroom, many teachers find that they want to dive more deeply into a particular area of education.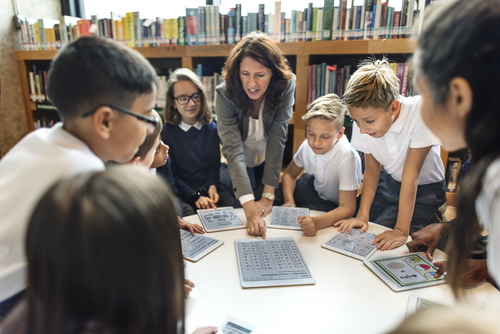 They may feel that their skills would be best utilized as an administrator, curriculum specialist, or instructional coordinator.
For these educators, an online master's degree in Curriculum and Instruction could be the perfect solution. An online graduate degree program typically allows students to continue working a full-time job while making progress towards their degree. If you still need to earn your initial teaching license, pay a visit to our ranking of the Best Online Master of Arts in Teaching Degrees.
Many schools offer a variety of concentrations within the Curriculum and Instruction major so that students can get exactly what they want out of their educational experience.
The rewards of a master's degree are both personal and financial: Elementary and secondary teachers will see an average salary increase of $7,000 annually after earning a graduate degree. Instructional coordinators for an elementary or secondary school have a median annual salary of $66,000, which is $11,000 more than the average high school teacher.
Whether educators plan to transition to a new position in the education field or sharpen their skills through a teaching concentration, an online master's degree can be the gateway for significant professional growth and personal satisfaction.
What are the best online Master's in Curriculum and Instruction programs?
To compile our rankings, we examine data from individual college websites, Payscale, U.S. News & World Report, and the IPEDS database for two primary aspects: institutional excellence and student success. For the institutional excellence assessment, we rank schools based on graduation rate, student-faculty ratio, test scores for incoming students, institutional reputation, and endowment size.
For the student success assessment, schools rank more highly when they have manageable base tuition costs, generous average financial aid packages, and low average student debt at graduation.
With all of these important factors in mind, we're pleased to present the following ranking for the best online master's degree programs in Curriculum and Instruction.
1. University of Massachusetts Lowell
Overview
Part of the University of Massachusetts system, the University of Massachusetts Lowell is among the top public research institutions in the nation. The university, which grants over 1,000 master's degrees in an average spring semester, is located in historic Lowell, a 40-minute commuter rail ride from Boston.
The extensive academic catalog (which offers over 40 master's degree programs) and high return on investment (the university is ranked 28th in the nation for ROI) are some of the most important elements that bring students to UMass Lowell.
Features
The online master's degree in Curriculum and Instruction offers two areas of concentration: Autism Studies and Science Education. Neither of these programs lead to initial teacher licensure, but they may lead to professional licensure.
The curriculum for the Autism Studies concentration overlaps with numerous courses from the Autism Certificate program. Both of these programs begin with core courses including Educating Diverse Populations, Dynamics of Curricular Change, History & Theory of Curriculum, and Curriculum Design K-12.
Details
Both programs require 10 courses (30 credit hours) and a culminating Action Research Capstone project. The online master's degree is designed for working classroom teachers who hold a valid teaching license from their state (in-state candidates must hold a Massachusetts teaching license). Online course support is available 24/7 for all UMass distance education students.
2. University of San Diego
Overview
Serving roughly 2,000 graduate students and 5,700 undergraduates, the University of San Diego is a Catholic institution with an outstanding reputation for innovation and engagement.
USD earned a designation as a Changemaker Campus from The Ashoka U, one of just 40 institutions worldwide to receive the honor. The university is well known as one of the most beautiful campuses in the country, located on 180 acres overlooking San Diego and Mission Bay.
Features
USD offers a renowned Master of Education degree track through its distance learning program. The program requires that candidates have at least two years of experience teaching in a K-12 classroom, either in a public district, charter, independent, or non-traditional school. Full-time teachers can earn their degree in 20 months. Available specializations within the Master of Education program include the following:
STEAM (Science, Technology, Engineering, Arts, and Mathematics)
Inclusive Learning: Special Education and Universal Design
Curriculum and Instruction
Literacy and Digital Learning
School Leadership
Details
All of the specialization tracks through the M.Ed. program are fully accredited by the National Council for Accreditation of Teacher Education (NCATE). Classes are based on a seven-week term and all content is asynchronous, so students can work through assignments whenever it is convenient for them. Online students will have access to many of the same services and benefits as residential students, including access to Copley Library's online digital databases.
3. Ohio University
Overview
With a main campus in Athens, numerous regional campuses, and a robust distance learning program, Ohio University is home to a diverse population of nearly 37,000 total students. The university is extremely active in research, with an annual research expenditure of $59 million and a "Doctoral University – Higher Research Activity" designation from the Carnegie Classification of Institutions of Higher Education.
Features
The Advanced Master's in Curriculum and Instruction is designed for certified, practicing teachers (P-12) who want to advance their knowledge of classroom teaching. Although the program is fully online, the coursework incorporates clinical experiences, mentoring new teachers or pre-service teacher candidates, community involvement, and action research in the learner's own classroom, school, and community. Other offerings in the online graduate education department include:
Master's of Reading Education
Professional Instructional Design Certificate
Teacher Leader Endorsement
Details
The online graduate education program at Ohio University has been ranked number 10 in the nation by U.S. News & World Report. The Ohio University eCampus utilizes Blackboard as its learning management system for course content.
In addition to the fully online tracks listed above, additional graduate programs are available in a blended format, including a Master of Education and Principal Preparation program (available at the Pickerington Center) and a Superintendent Licensure program (available at the Pickerington Center and Chillicothe Campus).
4. University of Texas at Arlington
Overview
Over 180 bachelor's, master's, and doctoral degrees are available at the University of Texas at Arlington, which has a total student enrollment of more than 58,000. The university is a hub of research and innovation, with a regional economic impact of $12.8 billion annually. The substantial cross-disciplinary academic catalog and plentiful research opportunities open up nearly endless possibilities for UTA students.
Features
The online Master of Education in Curriculum and Instruction program has three distinct tracks: Literacy Studies, Mathematics Education, and Science Education. Within the Literacy Studies program, learners can pursue a Reading Specialist, English as a Second Language, or Master Reading Teacher certification.
The Math and Science specializations, while primarily designed for teachers in a K-12 setting, also provide applicable skills for curriculum developers and administrators in nature centers, museums, zoos, and corporate education divisions.
Details
The M.Ed. in Curriculum and Instruction program can be completed in 18 months. Candidates are expected to hold a state-issued teaching license when they apply, and to continue working as a full-time K-12 teacher throughout the course of study.
Other graduate level programs available through the UTA Online Education department include a Superintendent Certificate track and a Master of Education in Educational Leadership and Policy Studies track.
5. SUNY University at Albany
Overview
Founded in 1844, SUNY University at Albany is a public research university located in the New York state capital. The school is roughly 135 miles north of New York City and serves a student body of almost 13,000 undergraduates and over 4,200 graduate students. The graduate level academic offerings at UAlbany are extensive, with more than 125 master's, doctoral, and graduate certificate programs available.
Features
Students can pursue a Master of Science in Curriculum Development and Instructional Technology (CDIT) to prepare for a career in a K-12 setting, or a career in government, social service, health-related fields, corporate training, or the development of educational media products. In addition to the CDIT track, the Department of Educational Theory and Practice offers a number of other fully online programs, including the following:
Certificate of Advanced Study in Curriculum and Instruction
Certificate in Computing Education
Certificate in Online Learning and Teaching
Details
U.S. News & World Report named SUNY UAlbany's School of Education the number 14 online graduate education program in the nation. All courses offered through the UAlbany distance learning program are asynchronous, with specific due dates for assignments and round-the-clock access to course material. Blackboard is the learning management system used for UAlbany online courses.
6. Florida State University
Overview
The campus of Florida State University is the oldest continuously operating site of higher education in Florida. Located in the state's dynamic and flourishing capital of Tallahassee, FSU serves nearly 42,000 students altogether, including students from every county in Florida and from 140 countries worldwide.
The university boasts a wide selection of master's, doctoral, specialist, and professional degrees and certificates, with more than 230 graduate level programs in total.
Features
The Curriculum and Instruction master's degree program at FSU will allow teachers to apply the techniques, technology, and methodologies they're learning in the contexts of their own classrooms. Using data collected from their practice, teachers will be able to concretely apply the theoretical tools they learn in class. The available concentrations within the Curriculum and Instruction degree program include:
Elementary Education
English Education
Mathematics Education
Science Education
Social Science Education
Special Education
Details
Each of the online Curriculum and Instruction tracks require 11 courses for a total of 33 credit hours, which can be completed by a practicing teacher in about two years. While the programs are fully online and asynchronous, certain electives and tracks may offer the opportunity for face-to-face instruction for students who prefer to complement their distance learning with in-person interaction.
In 2017, the FSU School of Teacher Education earned the number three slot for online graduate programs in the nation, according to U.S. News & World Report.
7. University of Colorado Denver
Overview
The University of Colorado Denver is an exceptionally diverse and dynamic school, both in terms of its academic catalog, its access to professional opportunities in the city of Denver, and its community of more than 18,000 students. CU Denver awards more graduate degrees than any other public institution in the state of Colorado.
Features
The Curriculum and Instruction degree program is the second most popular program among CU Denver's nearly 4,300 graduate students. As a result, students can benefit from an energetic and motivated community of peers as they work their way toward a master's degree. In addition to a fully online Master of Arts in Curriculum and Instruction: Reading and Writing, the online graduate program also offers the following distance learning tracks:
A. in Early Childhood Education
A. in Information and Learning Technologies: eLearning
A. in Information and Learning Technologies: School Library
Doctor of Education (Ed.D.) in Leadership for Educational Equity (hybrid)
Details
Other programs that are not fully online, but are still designed around the schedule of working teachers, include Curriculum and Instruction M.A.s with concentrations in Culturally and Linguistically Diverse Education, Elementary Math and Science Education, and many other areas. All tracks within the Curriculum and Instruction program require applicants to be licensed, practicing teachers when they apply.
8. Sam Houston State University
Overview
Located in Huntsville, Texas, Sam Houston State University is roughly an hour and ten minutes north of downtown Houston. Established in 1879, it's the third oldest public institution of higher education in the state.
SHSU pairs a strong sense of on-campus community with a commitment to strengthening its distance learning program, ensuring that the university is able to provide a high-quality education to the widest possible demographic of students.
Features
SHSU Online was ranked 22nd in the nation among online graduate education programs by U.S. News & World Report. Focusing on curriculum methodology, pedagogy, and theoretical applications, the fully online Master of Education in Curriculum and Instruction is designed for practicing classroom teachers. (Students seeking initial teaching licensure can enroll in the fully online Master of Arts in Teaching program.) Other online graduate programs include:
Ed. in Instructional Leadership
Ed. in Reading and Language Arts
Ed. in School Counseling
Ed. in Teaching English to Speakers of Other Languages
Details
In addition to being eligible for standard financial aid awards, fully online graduate students in qualifying programs (including the M.Ed. in Curriculum and Instruction) will be automatically granted $1,000 scholarships. Occasional face-to-face research meetings and on-campus coursework for certain minors may be required for students in some M.Ed. degree tracks.
9. University of Cincinnati
Overview
First established in 1819, the University of Cincinnati now serves more than 44,000 students. The university's main campus is comprised of plentiful green space and innovative architecture in an urban setting. (The New York Times called it the "most ambitious campus-­design program in the country.")
UC offers hundreds of programs of study, dozens of which have been ranked among the top 50 of their kind by U.S. News & World Report.
Features
The Master of Education in Curriculum and Instruction offered by the University of Cincinnati has three available concentrations: General Studies; Gifted, Creative, and Talented; and Science, Technology, Engineering, and Mathematics.
Additional online programs are available for TESOL (Teaching English to Speakers of Other Languages) and K-12 Reading Specialist graduate certificates. Two years of teaching experience are required for the M.Ed. in Curriculum and Instruction program.
Details
The UC distance learning program uses the Blackboard learning management system to facilitate communication with instructors and to deliver readings, online assignments, media presentations, discussion sessions, peer and professional support systems, and opportunities for local internships.
UC's online program boasts a 98 percent satisfaction rate among new students thanks to its exceptional support services, which include a personal Enrollment Advisor and a Program Manager for every student.
10. Kansas State University
Overview
Kansas State University is known for setting new standards in a variety of disciplines. Former Senate majority leader Tom Daschle called the university "the Silicon Valley for biodefense."
The U.S. Agency for International Development funds four Feed the Future labs on K-State campuses. In 2017, the Wall Street Journal named K-State number 12 in the nation in terms of improving students' critical thinking skills. Taken together, these factors are proof that K-State has made a name for itself as a bold leader in higher education.
Features
Within the Curriculum and Instruction master's degree program, teachers can specialize in Educational Technology, English as a Second Language, Mathematics Education, Reading Specialist, Teacher Leader/School Improvement, or Teaching Civics and Government. The College of Education also offers the following fully online degree programs through K-State's Global Campus:
Academic Advising Master's Degree
Adult Learning and Leadership Master's Degree
Educational Leadership Master's Degree
Master of Arts in Teaching (K-6)
Details
A number of standalone certificate and endorsement programs are available through the College of Education Global Campus, including Low Incidence Special Education, Social Justice Education, and K-12 Online Teaching.
The graduate education programs at K-State have an exceptional job placement rate: 97 percent of all master's degree graduates were employed or pursuing further education within six months of graduation.
11. Central Michigan University
Overview
More than 20,000 students attend Central Michigan University's main campus in Mount Pleasant, Michigan, while another 7,000 students connect to the CMU community through online programs and satellite campuses around the country.
Central Michigan University was first founded as a teachers' college in 1892. Although the university now offers over 200 programs across a wide spectrum of academic fields, it's still home to an outstanding education program.
Features
The Global Campus of CMU offers a wide variety of graduate education programs, some of which are available in-person, online, and in a hybrid (blended) format. The online Master of Arts in Education degree is available with either a Curriculum and Instruction or Training and Development concentration. Fully online tracks are also available leading to the following degrees:
A. in Educational Leadership (emphasis available in Charter School Leadership, Rural Education Leadership, Supervision, and Virtual Education Leadership)
A. in Educational Technology
A. in Reading and Literacy K-12
A. in Special Education
Details
All candidates for a Master of Arts in Education must complete nine core credit hours, as well as 21-25 credit hours based on a personalized course of study to be determined with an academic advisor.
Students will complete an integrating experience in the form of a capstone project, field study, or thesis. Course content and assignments are accessed through the Blackboard learning management system.
12. University of Colorado at Colorado Springs
Overview
The University of Colorado at Colorado Springs is one of the four institutions in the University of Colorado system. The 550-acre campus is located at the foot of the Austin Bluffs, with spectacular views of the Rocky Mountains and Pikes Peak.
In 2016, UCCS enrolled roughly 12,000 on-campus students and another 5,000 in online and distance learning programs. UCCS routinely ranks among the top regional universities in the West according to U.S. News & World Report.
Features
Three graduate degrees are offered in teacher education: a Master in Curriculum and Instruction, a Master of Arts in Leadership for instructors, and a Master of Arts in Teaching English to Speakers of Other Languages.
Core courses for the Master in Curriculum and Instruction include History & Research in Curriculum Studies, Strategies & Models in Curriculum Design, Introduction to Research & Statistics, and Masters Research Project (this is the last course taken to complete the program).
Details
The online master's degrees in teacher education each require 30 credit hours. Additional graduate certificates available through the UCCS distance learning program include a Culturally & Linguistically Diverse Endorsement, a Gifted & Talented Endorsement, and an Instructional Technology Certificate.
UCCS online courses primarily utilize Blackboard, but starting in summer 2017, several courses will be available through the Canvas learning management system.
13. University of Mississippi
Overview
The flagship institution of the state, the University of Mississippi is one of the premier public research institutions in the South. Ole Miss presently serves over 24,000 students, and it's one of the fastest growing institutions of higher education nationwide: Enrollment has grown by over 40 percent in the past decade, and has been growing for 22 consecutive years.
Features
A Master of Arts in Teaching is available fully online through the University of Mississippi's School of Education. The online M.A.T. is an alternate certification program for candidates who already hold a bachelor's degree, but do not have initial teaching licensure. Other programs through Ole Miss Online include the following:
Master of Education in Early Childhood Education (candidates who already hold a teaching license can earn a Pre-K license endorsement through this program)
Master of Education in Elementary Education
Master of Arts in Higher Education and Student Personnel
Details
The Mississippi Teacher Corps selects outstanding college graduates to teach in high-poverty schools throughout the state. In partnership with the University of Mississippi, MTC provides its members with a full scholarship for the M.A.T. degree, which includes training and full certification. The M.A.T. requires 36 credit hours and allows students to begin teaching in grades 7-12 after completing two training courses in the first summer of the program.
14. University of Nebraska at Kearney
Overview
Established in 1905 as a normal school, the University of Nebraska at Kearney has a legacy of quality academics and affordability that goes back more than a century. UNK offers 22 pre-professional programs and 27 graduate programs to its 1,600-plus post-baccalaureate students.
Features
Educators and instructors have an array of choices for graduate level online programs at UNK. A Master of Arts in Education: Curriculum and Instruction program requires 36 credit hours to complete and offers seven areas of concentration: Early Childhood Education, Elementary Education, English as a Second Language, Instructional Effectiveness, Reading/Special Education, Secondary Education, and, new in fall 2017, STEM. Other online graduate programs in education include:
Master of Arts in Education: Educational Administration
Master of Science in Education: Instructional Technology
Master of Arts in Education: Music Education
Details
UNK's teacher education department is a driving force of the state's educational field. Twenty percent of all certified staff in Nebraska schools have at least one degree from UNK. Almost 43 percent of all school superintendents and roughly 30 percent of all principals in the state graduated from UNK.
The education program as a whole has a job placement rate that hovers near 100 percent, particularly for graduates with endorsements in Biology, Chemistry, Language Arts, Math, Music, Physics, and Special Education.
15. Emporia State University
Overview
The 218-acre main campus of Emporia State University is located in Emporia, Kansas, between Topeka and Wichita. Founded in 1863, the university today serves a student body of over 6,000. ESU has been nationally recognized for a number of its academic programs, particularly its teacher education college: In 2006, Arthur Levine, then President of Columbia University's Teachers College, called it "a Camelot for teacher education."
Features
The Distance Education program at ESU offers a Master of Science in Curriculum and Instruction degree track, which requires 34 credit hours to complete. Concentrations available within this program include Curriculum Leadership PreK-12, Effective Practitioner PreK-12, and National Board Certification PreK-12.
The degree is available as part of a dual master's program along with the Building Level Educational Administration master's degree. Other fully online graduate programs through the teachers education college include (but are not limited to) the following:
S. in Early Childhood (valid teaching license required)
S. in Educational Administration (valid teaching license required)
S. in Instructional Design and Technology (TESOL concentration available)
Details
Most ESU online courses use the Canvas platform to deliver class material. The university encourages students to take advantage of DegreeWorks, a software available to ESU students that helps plan their academic path and track their progress toward a degree. Emporia State was recently named the Best Online College in Kansas by Affordable Colleges Online.