Our public, private, charter, and parochial schools contain the future leaders, businessmen, public servants, teachers, and innovators of this great nation.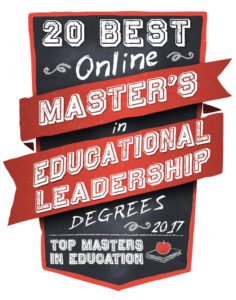 The task to organize, oversee, lead, guide, and shape these schools falls to those in educational leadership. Educational leadership includes many positions, such as principals, superintendents, assistant principals, academic deans,  instructional coaches, and directors of curriculum and instruction, for example. These school administrators are charged with providing essential educational, curricular, and financial leadership, as well as ensuring the smooth day-to-day operations of our schools.  As of 2015, according to the Bureau of Labor Statistics, there were over 900,000 education administrators in the U.S.
Educational leaders make a huge impact, and this impact has been studied extensively.   This infographic, taken from Queens University of Charlotte illustrates the impact well.  A few highlights include the fact that good administrators lead to better schools.  Teachers with good leaders work hards, are more effective, and report a higher job satisfaction.  Students have less behavioral problems and higher test scores.  Schools with the same principal for six years or more years are 50 percent more likely to be high-achieving.  One fact to highlight, though, is only 1 in 5 principals meets all the expectations for successful leadership.  This means two things, we really need to train leaders better, and you have a great opportunity.
What is required to get a job in educational leadership?
To be a principal, superintendent, assistant principal or any other position in educational leadership requires an advanced degree. Typically, a master's degree in education in educational leadership will suffice, assuming the program is set up to lead to licensure or to pass your state's particular exam.
Please note: requirements for licensure can change quickly and vary according to each state. It is important to contact your State Department of Education regarding requirements and certification. The U.S. Department of Education has a search page to assist you to find your state's requirements. Click here for help.
Admission into most master's programs for educational leadership usually requires a current teaching license and teaching experience, often 2 years minimum,  including all of the other general requirements. If you're new to the field of education, our ranking of the Best Online Master of Arts in Teaching Degrees is the perfect place to start.
Once admitted, programs include coursework in educational leadership, school-community relations, foundations of school budgeting and finance, assessment as a tool for achievement, and other leadership courses and training such as communication and ethics.  Most programs also include a capstone experience such as an internship, research project, portfolio, comprehensive exam, or thesis; sometimes a combination of these.
What is the job outlook and salary for a job in educational leadership?
According to the U.S. Bureau of Labor Statistics, the median salary in 2016 of elementary, middle, and secondary principals was $92,510.  The lowest 10 percent earned less than $59,910, and the highest 10 percent earned more than $135,770.  The job outlook is average with a 6 percent growth expected in the coming years.
What is your methodology for creating the 20 Best Online Masters in Educational Leadership?
Here at Top Master's in Education, we strive for data-driven assessment based on national statistics, reputable ranking sources, and school websites.   For this ranking we chose five relevant criteria:  A reputation score with U.S. News and World Report's ranking of the Best Online Graduate Education schools (25 percent); the cost per credit from various sources including IPEDs, Payscale, and school websites (30 percent;. The percentage of tenured faculty from IPEDs (10 percent); The endowment per student from IPEDs (10 percent); and the annual ROI retrieved from Payscale (25 percent).   The criteria are then used to calculate a total score leading to the ranking you see here.
The descriptions for each school is based upon the school's website.   We strive to find unique features and important information about each specific school and program that can give you the confidence to make an informed decision you.
May the road rise up to meet you!
1. University of Florida
The University of Florida is a public land-grant, sea-grant, and space-grant research university founded in 1853.  Being quite large means there are extensive opportunities for a flourishing college experience.  Research is a priority with a record $724 million spent last year.  Strikingly, 56 percent of the total 53,000 students graduate without student debt.
UF offers over 100 online programs.  Their Master's of Education in Educational Leadership is flexible and affordable.  The 36-credit MEd leads to certification in Florida and provides "an intuitive learning environment that facilitates collaboration, creative thinking, and context-based learning." Courses in educational law, administrative finance, assessment, school community, and leadership all flow into the minimum 150-hour practicum.  Admission does require a GRE but not the GMAT and you do not have teaching experience or a license. Deadlines for applications are Feb.15 (for summer), May 15 (for fall), and Oct. 15 (for spring).
Being ranked #1 in anything is something worth bragging about;  UF is ranked #1 by U.S. News and World Report for Best Online Graduate Education.  Considering the financial wisdom of a $690 cost per credit and 9.5 percent annual ROI is the icing on the cake. UF assuredly deserves to be at the top.
2.  Texas A & M University
Texas A & M in College Station, Texas is a land, sea, and space-grant institution.  It is heavily invested in research in many areas with expenditures over $866 million. One of the biggest universities in the nation with 66,000 students also means options for excellent academics, student life, athletics, service groups, and Greek life are prolific.
The Department of Educational Administration & Human Resource Development at TAMU offers a MEd in Educational Administration with two options.  The MEd in EA, Generalist Principal Certification and the MEd in EA, Bilingual Campus Principal Certification.  The programs are 36 hours, takes two years to complete, is entirely online and delivered in a  cohort model.  The yearly deadline for applications is December 1st.  Applicants must have a teaching license and two years of experience in addition to other requirements. Both versions of the PK-12 School Administration Program include courses such as Principles of Professional Practice in Education, Developing School-Community Partnerships, Public School Laws, and  Instructional Leadership Development Training/AEL.
With one of the largest endowments per student in the nation at $201,464, you know there are vast resources for your benefit.  The cost does reflect this as the tuition per credit is higher than others at $823; this is offset by the highest annual ROI of 10.5 percent.
3.  Florida State University
Florida State University, whose main campus is located in Tallahassee, Florida, was founded in 1851.  A tradition of winning athletics, excellent academics, top-notch research, and historic buildings makes FSU's motto ring true: "Vires, Artes, Mores - Strength, Skill, Character."  FSU offers 341 degree programs to 42,000 students.
FSU's MS in Educational Leadership is designed for teachers or instructional coaches/leaders desiring to move into a principal role.  The driving philosophy of the University is to prepare leaders who bring institutional improvement to our schools.  The program is guided by the Florida Principal Leadership Standards through the Department of Education.  It includes a core of professional knowledge, an experiential component, skills in applied research and the practice of leadership.  The program is 33 credits and regionally accredited by the Southern Association of Colleges and Schools (SACS).  Admission requirements include a teaching license and two years of experience, an undergraduate GPA of 3.0, and GRE score with a target verbal of 149, quantitative of 147, and analytical writing of 3.5.
With the online quality of a #3 ranking for Best Online Education by U.S. News and World Report and a financial package few can best, FSU is worth looking into.  Tuition is $604 and the annual ROI is 7.7 percent.
4. University of Cincinnati
Researchers at the University of Cincinnati invented Benadryl, the first antihistamine, the world's first electronic organ, a heart-lung machine, and the oral polio vaccine. This focus on exploring knowledge and research is at the heart of UC.  The 45,000 total students choose from 350 degree programs and enjoy the nationally-recognized beautiful main campus in Cincinnati, Ohio.
The 100 percent online MEd in Educational Leadership leads to licensure in the State of Ohio.  With no required campus visits, the 30-credit degree can be completed in as few as 21 months, though the duration varies based on the pace you choose.  The curriculum of the program features classes that lead to confidence in legal issues, community engagement, leadership communication, assessment, technology, school budgeting, and more.  The Principal Clinical Internship gives hands-on, real-world experience with experienced administrators during the second year; you will research, develop, lead, and measure a project at the school. Admission does require a teaching license and two years of experience among other criteria, but should you choose UC you will make a positive difference on day one.
With a $37,526 per student endowment, UC does offer many resources and support other schools do not.   Tuition remains affordable, however, at $548 and the annual ROI of 8 percent gives assurance to your long-term financial health.  All in all, a solid reputation, quality program, and affordable price make UC #5.
5.  Montclair State University
Founded in 1908 as the New Jersey State Normal School at Montclair, present day Montclair State University is a public doctoral research university in New Jersey.  Montclair State is comprised of four colleges and three schools, each led by a Dean. The colleges and schools organize and conduct academic programs within their units (Bachelor's, Master's, Doctoral and Certificate Programs), and work cooperatively to offer interdisciplinary programs. MSU enrolls 20,000 students.
The Master of Arts in Educational Leadership at Montclair is fully online in an asynchronous format for the ultimate convenience and flexibility.  The MA in EL is perfect for those seeking to be principals, vice principals, supervisors, directors, or school superintendents and does lead to licensure.  Admission requires a GRE if your undergraduate GPA is under 3.0, along with letters of recommendation, a statement of purpose, and transcripts.    Taught by the same credentialed faculty as the on-campus option, of which 88 percent are tenured, the third highest on our list, online courses include leadership, assessment, decision making, student achievement, and school and community relations.  A notable feature of MSU's program is the choice of either a fast-track or flexible option.  The fast track allows you to complete your master's degree and certification in 14 months.
Ranked #47 by US News and World Report for Best Online Graduate Education Montclair doesn't skimp on quality.  Even with the top quality program with tenured professors, the cost per credit is only $575 making it a tremendous combination of quality and affordability.
6. University of North Texas
Established in 1890, the University of North Texas in Denton, Texas is one of the nation's largest public research universities with 37,000 students.  With humble origins from a single building and normal school where livestock was kept from interrupting school by a fence, UNT now offers 100 bachelor's, 83 master's, and 37 doctoral programs.
The MEd in Educational Leadership is built online as an accelerated program.  The MEd n EL is 30 hours and meant to be combined (though doesn't have to be) with the Principal Certification Program, a 21-hour licensure track.  Combined together you will graduate with a master's and licensure to work as an administrator in Texas public schools; each program can be completed in 12 months.  Accredited by the Council for the Accreditation of Educator Preparation (CAEP), 100 percent online, and taught by accomplished faculty (of which 67 percent are tenured), UNT's preparation leads you to skill and confidence.  Up to six semester hours of graduate work can be transferred. Admission to the MEd does not require teaching credentials and experience, though preference is given; the Principal Certification does.
With a high rank from U.S. News and World Report, #16 for Best Online Graduate Programs, UNT comes highly respected.  Additionally, the College of Education at UNT ranked in the 50 Top Education Colleges by Council for Accreditation of Educator Preparation.  Tuition is $710 per credit.
7. Indiana University-Bloomington
Indiana University-Bloomington is the flagship campus of IU's eight campuses. "Innovation, creativity, and academic freedom are hallmarks of our world-class contributions in research and the arts."  Academic, extracurricular, cultural and service opportunities are many.  IU's 16 schools offer 550 degree programs, there over 300 student groups and over 200 centers and institutes for more than 40,000 students.
The Educational Leadership and Policy Studies, under IU's School of Education (SOE), offers the MS of Education in Educational Leadership is completely online.  The program prepares you for licensing as a building-level administrator.  Though typically experienced teachers are accepted, IU will consider those without teaching experience for admission.  Admission requires a bachelor's, minimum GPA of 2.75 (some programs require higher), and GRE scores.  The MSEd in EL degree leaves graduates ready for the demands of being a leader in today's schools. Courses taught by full-time faculty (69 percent tenured) include Legal Perspectives on Education, Public School Budgeting and Accounting, Assessment in Schools, and a Workshop on Select Problems in Educational Leadership.  The SOE is accredited by the Council for the Accreditation of Educator Preparation (CAEP) and North Central Commission on Institutions of Higher Education (NCCIHE).
US News and World Report ranked IU #22 in Best Online Graduate Education, something that boosts confidence in choosing IU and for employers who hire IU graduates.  The $806 cost per credit and 8.4 percent annual ROI nicely complements the quality with our #1 rank.
8. Queens University of Charlotte
"Non ministrari sed ministrare -  Not to be served, but to serve."  Queens University of Charlotte is a private, coed, masters level university with a commitment to liberal arts and professional studies in Charlotte, North Carolina.  The University offers 44 majors, 66 minors, and 11 graduate programs to about 2300 students.  The average class size is 14 with a student/faculty ratio of 9:1.
Admission to Queen's 100 percent online MA in Educational Leadership does not require a GRE or an application fee.  The program is designed to "foster your creativity, communication, commitment to ethical behavior and responsible citizenship which will serve as a foundation for your success as a school leader."  There is a licensure or non-licensure track.  The philosophy of training successful educational leaders is roots in hands-on mentoring from other leaders.  This is built into the program through coursework like Professional Learning Communities, Improving Instruction Using Data, and Education Law and Ethics and six credit hours of internship all under personal guidance and mentorship by expert faculty. Cato School of Education is accredited by NCATE (National Council for Accreditation of Teacher Education).
It may come as a surprise that Queen's exceptional quality comes at the lowest price on our list, $390 per credit.  The $48,231 endowment per student illustrates the University's commitment to student success.  Taken together, Queen's may be the perfect fit.
9. Pennsylvania State University
Pennsylvania State University is a leader in teaching, research, and public service.   Located in  University Park, Pennsylvania, and now with more than 20 campuses, Penn State owns over 10,000 acres.   Penn State offers 47,000 students at the main campus over 200 majors and the largest student-run philanthropic organization on the planet.
Penn State World Campus has partnered with the College of Education to offer the 100 percent online MEd in Educational Leadership with three emphases:  Teacher Leader, School Leader, or non-principal School Leader. The 30-credit program requires a teaching license to be admitted; the Teacher Leader and non-licensure School Leader does not require a Pennsylvania license, but the School Leader emphasis that leads to principal certification does.  All emphases require coursework in leadership, school policy, technology applications, and the capstone inquiry course; the capstone features a public presentation of an inquiry project reflecting an understanding of five leadership strands.  The School Leader with principal certification breaks from the core courses into those geared to training principals; the emphasis requires an internship.
US News and World Report ranked Penn State #9 for Best Online Graduate Education.  This increases credibility and confidence for you and employers.  The $821 cost per credit is on the higher end of this list, however, the 7.3 percent annual ROI makes up for with the long-term payoff.
10. University of Louisiana-Monroe
The University of Louisiana-Monroe is a public university, part of the University of Louisiana System, enrolling 9000 students.  Established in 1931 and located in Monroe, Louisiana, ULM offers about 100 majors and minors and have over 150 student groups.  The School is known for outstanding business, nursing, and pharmacy programs.
Through ULM's Graduate School, the MEd in Educational Leadership provides the path to leadership. The 36-credit program puts forth several advantages: after the first six hours, you will qualify for the Teacher Leader endorsement and be assigned a mentor.  Your mentor will connect you with other leaders and guide you through the program and Internship.  The internship is one of the most cited advantages by alumni of the program; because it starts before the school year and ends after its over, you will experience what administration is really like.  All in all, the NCATE-accredited program gets the job done.  Admission into the program includes a minimum 2.75 GPA, GRE scores, and a valid teaching license.
The short-term and long-term financial picture is promising at ULM: $500 per credit for tuition and 9.1 percent annual ROI.  The personalized and experiential-based MEd with excellent support just might be exactly what you're looking for.
11. Northwest Missouri State University
With a beautiful 370-acre arboretum campus based on the design for Forest Park, Northwest Missouri State is ideal for contemplation, study, and reflection.  It is also a place for over 150 student organizations to make the college experience memorable.  NMS, located in Mayville, Missouri, offers 6500 students 170 undergraduate and graduate programs.
Imagine in one year what you can do. If you're looking to move into education leadership, at Northwest Missouri you could enroll in the MS in Education, Educational Leadership, and in 12 months you could complete the 30-credit program be a licensed administrator making a real difference in public schools.  Features of the program include 15 hours of core work and 15 hours of subject field work. In the MS in ED, EL degree, you will take core courses in Improvement of Instruction Through Action Research, Visionary School Leadership, and Data Literacy and Assessment for Schools and practical field work courses such as School Finance for Principals, Practicum for a Guaranteed and Viable Curriculum, and the capstone Practicum in School Leadership: K-12.  Admission does require two years teaching experience and a valid license.
The second most inexpensive school on our list at $325 and one of the best percentages of tenured professors at 67 percent put NMU at the intersection of affordability and quality, the sweet spot we all look for.  The annual ROI is 6.2 percent.
12. University of Wyoming
Located in Laramie, the University of Wyoming enrolls more than 14,000 students from all 50 states and 90 countries.  UW's seven colleges provide instruction by expert faculty with 80 undergraduate and more than 90 graduate degrees. Students are active with outdoor adventures in a beautiful country and UW offers 400 domestic and study abroad sites.
UW's MA in Educational Leadership is open to those with at least two years of teaching experience, and the associated Principals Preparation Program requires a license and three years experience.  Admission does not, however, require a GRE.  For those who are admitted, you The 33-credit program prepares for the demands of being principal; the Wyoming license certifies you for K-12 public schools.   Courses include  Leadership for Curriculum Development, Leadership for Democratic Schools, Assessment, Accountability, and Student Learning, and Supervised Internship.  The 435-hour or 11-week internship includes elementary, middle, and high school.  Application deadlines are Feb. 15th, April 15th, and Oct. 15th.
With college costs and debt rising it's important to know there are some affordable options. UW is one of those with a cost per credit of $750.  When looking the down the road, the annual ROI of 9.1 percent, the third best on the list assures you in the now, your investment is worth it.
13. CUNY City College
Nestled in New York amidst century-old neo-gothic buildings, City University of New York City College is home to 16,500 students from all over the nation and the world.  Academics are the point of pride for this "Harvard of the proletariat" as numbers Nobel Laureates, Rhodes, Truman, and Goldwater Scholars have graced the grounds.  CUNY City College offers 73 undergraduate majors and 47 masters programs.
The Master of Science in Education - School Building Leader Program is offered online or on campus.  The SBL Program provides three concentrations, and all will lead to certification and leadership positions.  The School Building Leader (SBL) is for those interested in becoming a principal or administrator.  The Entry Level Leader Certification Program (ELLC) if only on-campus and for those seeking certification for entry positions in urban schools.  The School District Leader Program (SDL) is an Advanced Certificate Program for those seeking jobs like the superintendent, human resource manager, or director of the curriculum, for example.  The MSEd - SBL degree is delivered in a cohort model maximizing networking and peer-to-peer interactions.  Classes are held once a week and there are some on-campus requirements depending on the concentration.
Cost per credit is middle-of-the-road at $780, though knowing it's CUNY means the degree is quality-assured, for example, 96 percent of the faculty is tenured, the best on our list.  Annual ROI is also high at 7.8 percent.
14. Arkansas Tech University
Like many of our institutions of higher learning, Arkansas Tech University in Russellville, Arkansas has humble origins.  Founded in 1909 as the Second District Agricultural School the purpose was a high school education.  ATU now provides a comprehensive education with undergraduate to doctoral programs to 12,000 students.
Part of the rapid growth of Arkansas Tech was adding graduate degrees.  The 34-credit Masters of Education in Educational Leadership is an excellent addition to the School's offerings.  The program prepares you for licensure in the State of Arkansas for principal, assistant principal, or other building leadership positions.  The Center for Leadership & Learning coordinates this mostly online degree (there are some residency requirements).  Courses include Action Research and Data Analysis, Communication with School and Community, Instructional Leadership, and Administrative Law.  The Program does require an internship and a portfolio.  A license and two years experience is required for admission.
A look down the road with a degree from ATU shows light at the tunnel with a 7 percent annual ROI.  The short term looks good as well because the tuition is an affordable $568.  Quality is something else worth considering, and ATU passes that as well with 68 percent of faculty tenured.
15. DePaul University
DePaul University in Chicago, Illinois is the largest Catholic University in the United States with 16,000 students, nearly 8000 graduate/law students.  Founded in 1898 by the Congregation of the Mission priests who were followers of St. Vincent de Paul, the School offers over 150 undergraduate majors, and 100 graduate programs in 10 colleges and schools.
In as little as two or three years you could assume a position of leadership in a school as a principal, assistant principal, or a teacher leader.  The Educational Leadership degree at DePaul offers options:  General Concentration (MA or MEd), Catholic Leadership Concentration (MA or MEd), Higher Education Concentration (MA or MEd), Physical Education Concentration (MEd), Principal License Concentration (MEd), Catholic Teacher Leader Concentration (MEd), and Teacher Leader Concentration (MEd).  All options are offered online, on-campus, or hybrid (some courses may require residency, please check with each option).  The MA options require a Thesis and oral defense and the MEd capstone is a research project wherein students design, plan, and defend a year-plan for improvement of an urban school.  Teaching experience and licensure are required for the Educational Leadership Program.
High quality accents DePaul's Educational Leadership options, flexibility, and affordability.  The tuition is $600, and the annual ROI is 5.3 percent.  As for their quality, the 70 percent tenured teachers is an indication that DePaul's faculty is experienced and proven.
16. Southern Wesleyan University
Affiliated with the Wesleyan Church and founded in 1906, Southern Wesleyan University is a private, Christian University in Central, South Carolina.  The School's 700 residential students pursuing degrees in more than forty areas of study enjoy the scenic 350-acre campus in upstate South Carolina.  SWU also has 600 online students.
The Master of Education in Classroom Leadership is for educators who wish to complete continuing education requirements or move into teacher leader positions.  The Program is 36 credits and takes about 20 months to complete.  Following a core of courses in the philosophy of education, research, and technology. After core courses are completed, the Teacher Leader portion requires more coursework and practical experiences.  Six credits of electives allow further specialization in Literacy, Learning Disabled, Gifted and Talented, and Early Childhood Special Education.   Admission requirements include letters of recommendation, transcripts, GRE scores, valid teacher license, and at least one year of experience.
Accreditation by Southern Association of Colleges and Schools Commission on Colleges and NCATE provides assurance of program quality.  From the schools selected on this list, SWU is #2 regarding affordability with a tuition of $425 per credit.  Interesting note, though, Southwestern's annual ROI is the lowest at 3.6 percent.
17. Saint Joseph's University
St. Joseph University is a private, Catholic school founded by the Jesuits in 1851.  The University is located in Philadelphia, Pennsylvania and enrolls 8400 total students.  SJU offers 55 undergraduate day majors and 50 minors, over 30 degree completion and certificate programs including online options, and 52 graduate programs (in business or arts and sciences).
Following the Jesuit tradition of scholarship, the MEd in Educational Leadership emphasizes social justice, professional service and outreach, research, and educational best practices.   The MEd in EL leads to licensure in Pennsylvania (please check your state for reciprocity) for K-12 Principal or a supervisor of curriculum and instruction and is available in a Catholic or Public School track.  The 36-credit program is flexible and convenient and involves 12 courses in leadership, school finance, educational law, and more. A point of pride for SJU's College of Education is the expert faculty who are "known for cultivating a highly collaborative atmosphere sensitive to students' personal and professional needs." Admission requires a valid teaching certificate and five years full-time teaching experience at the time the degree is awarded.
SJU is ranked #98 by U.S. News and World Report for Best Online Graduate Education. With recognition like that, a reasonable tuition of $750, and a 4.3 percent annual ROI the MEd may be perfect for you.
18. New Jersey City University
Opened in 1929 as the New Jersey State Normal School, the institution became a liberal-arts school in 1968.  Now New Jersey City University located in Jersey City, New Jersey, the School has 6800 students studying in three colleges offering 41 undergraduate study and 27 graduate degree programs.  For students at NJSU, the motto comes to life, "Enter to Learn, Exit to Serve."
The Department of Educational Leadership offers an MA in Urban Education Administration and Supervision.  The 36-credit program features courses such as Principles of Supervision and Human Resource Management, Innovations in Curriculum and Educational Leadership,  School Law and Finance, and  Educational Administration Leadership II: Strategic Leadership and Teaching.  The program requires to internship experiences both in the urban education context.  Should you seek certification only, NJSU offers certification only programs (12 credits) for principal and superintendent.  Admission requires a standard teaching and or educational services certification or equivalent, three years of full-time teaching and/or educational experience under an appropriate standard certification, and verification of current employment in a P-12 setting.
Tuition at NJSU is the second highest on our list at $976 per credit. The higher cost is of a higher quality with 96 percent of tenured faculty 113th rank by t fU.S. News and World Report for Best Online Graduate School.
19. Northern Arizona University
Founded in 1899 in the pleasant town of Flagstaff, Arizona, Northern Arizona University is a public university that offers 151 degrees.  Over 30,000 students call Northern Arizona home, but the average class size is a mere 31 participants, ensuring students don't get lost in the crowd.
The College of Education at Northern Arizona University offers multiple options for those who want to earn an online Masters in Educational Leadership.  One option is the Educational Leadership - Instructional Leadership K-12 School Leadership, Master of Education which prepares students to serve in leadership positions at the K-12 level.  This degree does not culminate in an administrative license, but candidates go on to serve as department chairs, leaders of various curriculum initiatives, or head up various school and community programs. Other Educational Leadership emphases include Educational Leadership - Community College/Higher Education, Educational Leadership - Educational Foundations, Early Childhood Leadership, and Educational Leadership - Principal K-12.  Completion of the Educational Leadership Master's degree requires 30 credit hours; the Principal focus requires 36 credit hours.
U.S. News and World Report ranks Northern Arizona University at #113 for Best Online Graduate Education, recognizing their online Education programs as one of the best in the nation.  The cost per credit is $1048, 51 percent of the faculty are tenured, and the annual ROI is 6.5 percent.
20. University of West Florida
The University of West Florida is a mid-sized, comprehensive research institution.  The campus is the largest in the University of Florida System at 1600 acres and contributes to their research focus; it set on rolling hills and trees and is bordered by two rivers and Escambia Bay.  USF serves 10,000 students.
If you plan on being a principal, assistant principal, district supervisor, in-service director, curriculum developer, or dean, the MEd in Educational Leadership may be the way to accomplish your goals. The Program is 100 percent online, making it convenient and flexible.  The program is designed to the ten Florida Principal Leadership Standards and associated competencies to prepare you for the Florida Educational Leadership Exam (FELE), required by the State of Florida for certification.  The curriculum features training in Law and Education, Foundations of Measurement, Data Driven Decisions Using Standardized Student Achievement Data, and Leadership in Education: School Improvement Theory and Practice.  Admission requires GRE scores, three years teaching experience and a valid license among other criteria.  You are assigned a faculty mentor and each course has a connected practical experience.
As for convenience and affordability, the UWF MEd in Educational Leadership is hard to beat.  Tuition is $640 per credit, and the annual ROI is a respectable 5.7 percent.