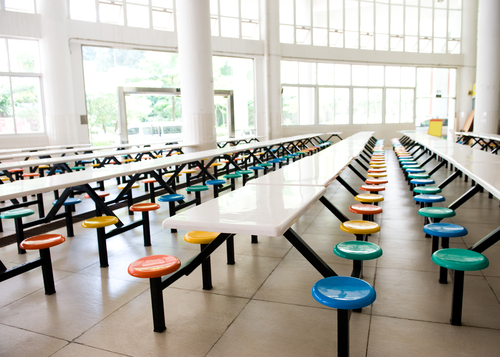 Long before concerns about childhood obesity and peanut allergies ruled the lunchroom, kids happily made their way to school each morning with a lunchbox featuring their favorite pop-cultural icon. Lunchboxes were originally used by workingmen, who toted their meals to their jobs in sturdy metal pails. However, the containers gained a brand new appeal with a generation of children by displaying popular images of TV shows, movies, musical artists and toys – and the boxes were made of metal until the middle of the 1980s. Here are ten of the most iconic lunchboxes from the '80s, a time when pop culture was often as cheesy as the sandwiches once found within these colorful containers.
10. Star Wars: The Empire Strikes Back
Metal lunch pails were originally an indicator that the workingmen who carried them had neither the time nor the cash to get a hot meal in the middle of the day. Lunchboxes, however, would eventually take on a different meaning, allowing their carriers to proudly celebrate their favorite television show or movie. In 1980 Star Wars: The Empire Strikes Back hit theaters. The second installment of George Lucas' original trilogy continues the story of Luke Skywalker's escapades through space as he faces his nemesis – and father – Darth Vader. This classic lunchbox shows Luke with Jedi Master Yoda and droid companion R2-D2, and the orange flask is also decked out with an illustration of Yoda.
9. Care Bears
Late 19th-century schoolchildren fashioned their own lunch pails from tin boxes that previously held goods like tobacco and biscuits. One hundred years later, though, lunchboxes became a whole lot cuter when Care Bears were invented. Although they were originally designed for cards by American Greetings, the bears' popularity saw them become a line of stuffed toys and star on screen in a pair of TV specials in 1983 and 1984. Further success followed, and their likenesses also featured on merchandise such as this brightly colored lunchbox and flask set.
8. Smurfs
In 1950 the company Aladdin Industries began producing a metal lunchbox with TV cowboy Hopalong Cassidy on its front. The $2.39 accessory flew off shelves, selling 600,000 in just its first year on the market. The new trend then snowballed, giving children a wide choice of pop culture icons to carry with them to school. The Smurfs, which first appeared in a Belgian comic strip in the late 1950s, became wildly popular thanks to the '80s cartoon series created by Hanna-Barbera. This lunchbox features the little blue guys gathered around the community's only female, Smurfette.
7. Knight Rider
Plastic lunchboxes were being produced as early as 1972, with the lower cost of manufacturing them being the main reason for the switch. However, metal lunchboxes were still made well into the '80s. Another serious piece of metal became very popular – along with its driver, David Hasselhoff – when the TV showKnight Rider premiered in 1982. Hasselhoff played Michael Knight, a man fighting crime alongside his trusty supercar sidekick, KITT. Both are featured on this metal lunchbox, which was sold with a neat blue plastic flask.
6. Strawberry Shortcake
Like the Care Bears, Strawberry Shortcake made her American debut on the face of a greeting card. However, it wasn't long before little girls could get their hands on all the Strawberry Shortcake merchandise their hearts desired, including dolls, books and lunchboxes like the one above. The new franchise helped rake in an amazing $100 million in 1980, and perhaps in an attempt to appeal to a new generation of little girls, Strawberry Shortcake and her friends were re-launched in 2009 with a CGI movie, and the following year a TV show, an iPhone app and replica versions of the original 1980s figures appeared.
5. The A-Team
Popular kids' lunch treats of the '80s were jawbreakers, California Raisins, Cool Ranch Doritos, Fruit Roll-Ups and Capri Sun. And perhaps some of them were once contained in this lunchbox, which features characters from The A-Team. The show, which premiered in 1983 and ran for five seasons, followed the adventures of four Vietnam veterans who were wrongly imprisoned but managed to escape and become "soldiers of fortune." The accompanying flask depicts Mr. T, who went on to become an '80s pop culture icon in his own right. We pity the fool who didn't have a cool lunchbox like this.
4. He-Man
The health value of lunches served in schools has come under scrutiny in recent years. Cost often trumps nutrition, resulting in unhealthy food being dished out to America's youth. Some high-profile celebrities, such as Jamie Oliver and First Lady Michelle Obama, have since fought for healthier foods in lunchrooms across the nation. Another formidable battler is cartoon good guy He-Man, who had his own TV series from 1983 to 1985 and who's displayed fighting his foes on this blue metal lunchbox. Taking a lunchbox packed full of healthier treats into school is also a good way to help ensure that your child grows up to be as strong as Prince Adam himself.
3. Fraggle Rock
There have now been some measures put in place to help children eat more healthily, such as the School/Child Nutrition Commodity Programs, supported by the United States Department of Agriculture (USDA). These schemes both support national agricultural producers and provide school kids with nutritional lunches in between classes. The TV showFraggle Rock, which was created by Jim Henson and ran from 1983 to 1987, often used its strikingly colored puppets to explore social and environmental issues amongst others. Perhaps, if healthier school lunches had been a hot topic back then, the Fraggles would have explored that subject, too.
2. GI Joe
In 2011 the USDA Food Pyramid was replaced with MyPlate, a new graphic depicting the recommended food groups for proper nutrition. Providing such a straightforward guide for kids and parents may prompt smarter decisions about food. Recent research has found that just over half of kids bring their own lunch to school each day, and that those who do so have a significantly lower rate of obesity compared with those who rely on cafeterias for their meals. Perhaps more children would take their lunches to school if they had a cool box like this one featuring G.I. Joe. The G.I. Joe action figures debuted in the 1960s and then reappeared on the market in the early '80s. They also came to life on the small screen in 1985, though the cartoon only lasted two seasons.
1. ThunderCats
There are several benefits to bringing a packed lunch to school rather than buying one in the cafeteria. TeensHealth says that some specific incentives for doing so include control over the nutritional value of lunch foods, variety plus the choice of having an assortment of items not necessarily sold at school, and tailoring kids' diets to provide energy for that big game or gym session. It will also save money – and possibly stave off the need to go to the vending machine – as well imparting that "warm and fuzzy feeling" of getting a lunch packed by parents.
Perhaps even the parents of the ThunderCats prepared their lunches as they set out on their journey to Third Earth. The feline humanoids' adventures could be seen on TV in a popular animated series that ran between 1985 and 1989, with the cats fighting evil right up to the very last episode.