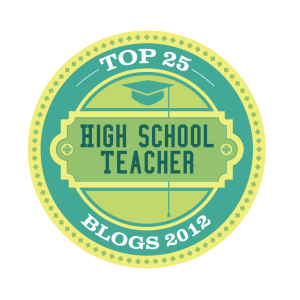 We've put together a list of our favorite high school teacher blogs of 2012. All of the blogs listed below are maintained by high school teachers who post meaningful or entertaining content related to teaching on a regular basis. Although they are separated by subject matter, there is definitely something of interest to all educators on each of the blogs included on this list.
English/Literature
1.) The Nerdy Teacher – This blog is written by an educator who teaches American Literature, Pictorial Literature and Freshman English. The Nerdy Teacher has been honored with several blog awards, and the author's approach to discussing all aspects of the world of teaching is both informational and humorous.
Where to begin: The Epic Mock Trial of Mark Twain provides suggestions for how to engage your students in the writing of Mark Twain while also taking on the issue of racism and teaching your students about the judicial process.
2.) Removed by editor.
3.) Walking to School – The English teacher behind this blog has 24 years of high school experience. She uses the blog to discuss the problems that face today's educators, and she also discusses ideas for educational reform.
Where to begin: If you are a teacher in need of inspiration or an aspiring teacher who wants to know what is ahead of you, the post Not Just a Teacher is the perfect place to start.
Foreign Languages
4.) Life of an Educator – Blogger and German teacher Justin Tarte discusses assignments, student engagement and the importance of staying positive. Tarte's blog is uplifting and educational, and it is aimed at his fellow teachers.
Where to begin: Assessments, and the Role they Play in Student Learning… provides a highly visual approach to determining whether or not your current approach to assessments is well suited to your method of teaching.
History/Government
5.) Living the Dream – Diana Laufenberg has taught American Government, American History and Globalization and Debate at a high school level, and she also gives keynote addresses around the country about education. Her blog shares her insights from a long career in the teaching profession, along with suggestions for getting students more interested in history.
Where to begin: If you have ever struggled to get your students to retain information about history, the idea that is presented in Teaching History Thematically should inspire you to make some changes in your classroom.
6.) Mr. Teachbad – Although this blog appears to be purely satirical on the surface, it actually provides high school teachers with a lot of very relevant information disguised within humorous and very well worded posts. The author is a government and history teacher, and his goal is to help other teachers blow off steam while still learning something valuable.
Where to begin: Mass Production of Individuals is a great starting point because it introduces readers to Mr. Teachbad's witty writing style while also calling attention to the issues that are currently facing the education system.
7.) World History Teachers Blog – This prolific group blog provides World History teachers with a fantastic resource for learning new techniques. Due to the group blog approach, it is common to find multiple different topics posted in a single day.
Where to begin: Flipping the Class When You can't Make it to School is a good post for teachers of any subject. Through the usage of an embedded video, teachers can learn how to make the most of a day that they have to take off by letting a video they create provide the daily lesson for them.
Psychology
8.) Teaching High School Psychology – This group blog takes a close look at what it means to be a high school psychology teacher, and it is a very valuable resource for current and future educators. The blog's writers often use real life scenarios and news articles to provide a good springboard for educational discussions with students.
Where to begin: Social Psychology Examples Worksheet provides several questions that will help your students learn about psychology and their own preconceived notions about the world.
Math
9.) Continuous Everywhere but Differentiable Nowhere – The author of this blog is a math teacher from Brooklyn, New York. He uses his blog to connect with other teachers by sharing his daily experiences and some of the math projects that he gives to his students.
Where to begin: The author, Sam Shah, participated in a blog series entitled "A Day in the Life." This post will give future educators a good look at what really goes into each day of being a teacher.
10.) f(t) – The author of this blog has been teaching math at a high school level for eight years. She is currently teaching Geometry and Precalculus, and her posts cover everything from math problems to the issues that educators face.
Where to begin: Moon Safari explains how the author used the moon to get her students excited about doing math calculations.
11.) MathNotations – Any high school math teacher who is looking for a source of inspiration will be able to easily utilize all of the math problems, challenges and investigations that are posted by this blogger. In addition to daily classroom exercises, the blogger also provides information to help teachers prepare their students for the SAT.
Where to begin: GEOMETRY: When is a Cone Half Full… provides teachers with a fun geometry problem that lets students explain part of the process without using any calculations.
12.) Math Teacher Mambo – The author of Math Teacher Mambo has been teaching high school math for 16 years, and she utilizes her blog to share her experiences with other teachers. The posts contain a mixture of teaching ideas and personal reflections on life in the classroom.
Where to begin: Math Libs is a fun classroom activity idea that was inspired by the blogger's love of Mad Libs. With Math Libs, students are required to fill in every blank with a math term, and they are rewarded with a funny story that helps to demonstrate their knowledge of math.
13.) MISSCALCUL8 – The fourth year math teacher who writes this blog places an emphasis on providing new approaches to math problems. The blog also includes the author's personal musings about teaching and life in general.
Where to begin: #myfavfriday Math Poker explains how the blogger utilizes a modified version of poker to get freshmen interested in math. The game not only teaches students how to work through math problems, but it also keeps everyone entertained by having funny consequences for a wrong answer.
14.) ThinkThankThunk – Shawn Cornally is a calculus, gastronomy and physics teacher, and he uses his blog to explore all aspects of the teaching process. Cornally also writes many of his posts from a comical standpoint, and this makes the blog extremely readable for teachers of any subject.
Where to begin: The Central Theorem of Math Education via Infinities, Improper Integrals and My Awesome Students highlights a class exercise that enabled the blogger's calculus students to use math and rational thinking to come up with their own pattern to solve a problem.
15.) Rational Mathematics Education – The author of this blog is a math teacher who stays away from the typical content of a math blog. In other words, instead of providing several math problems that you can use with your students, he engages his readers on a deeper level by looking at the misinformation that is spread about math within society.
Where to begin: In the post Won't get Khanned Again: How can Education Help Democracy Trump Capitalism? the blogger takes an in depth look at Salman Khan's education empire and why it is bad for students.
Multiple Subjects
16.) An Urban Teacher's Education – This high school educator has spent time teaching several different subjects across the country. He is currently based in Seattle, Washington, and his blog is filled with regular and lengthy topics that will be of interest to any high school teacher.
Where to begin: If you have ever felt like your student's parents are overly closed-minded, you will enjoy the author's insight in the post Managing a Healthy Mental Biome.
Science
17.) Adventures with the Lower Level – The science teacher who writes this blog has taught a wide variety of subjects, including Physical Science, Meteorology and Applied Physics. She discusses lesson plans and shares ideas for other high school science teachers, and she also puts a personal spin on many of her posts.
Where to begin: A Letter to My Colleagues… the BEST Robotics Adventure details the blogger's experiences sponsoring her school's robotics team.
18.) Removed by editor.
19.) Coaching in and out of the Classroom – The Science teacher who writes this blog shares lesson plans, educational ideas and information that he has learned from fellow educators. Several of the blogs are written in a slightly humorous tone, and that makes the posts very accessible to both teachers and those who have an interest in science.
Where to begin: Textbooks: They Just Don't Add Up – This post explores the cost of stocking the average school with textbooks versus using technology to put the necessary information at each student's fingertips.
20.) Jacobs Physics – The author of this blog, Greg Jacobs, has taught all levels of Physics. The main emphasis of the blog is placed on discussing various teaching techniques and the issues that often accompany a teaching position.
Where to begin: Circuit Building Challenge — A Last-Minute Class Idea that Worked provides Conceptual Physics teachers with an exercise that will help their students learn how to refine the art of estimating voltage.
21.) The Blog of Phyz – This blog is written by a Physics teacher, but it touches on a wide range of educational topics. The author often bases his posts around articles and videos that spark either a classroom project idea or delve into some of the issues that educators face every day.
Where to begin: Physicists Prefer Gentlemen takes a look at a study that indicates that there is a gender bias among scientists and how this relates to the problem of getting female students more interested in science.
22.) Science Education on the Edge – Chris Ludwig, the author of this science blog, teaches Biology, Anatomy, Chemistry and Physiology. The blog provides other teachers with insight into Ludwig's educational experiment with student designed courses, and it also places a lot of emphasis on the role of technology in today's schools.
Where to begin: Standards-Based Grading in the Land of Portfolios, Blogs and Other Time-Sucking Grumkins: A How-To Guide offers teachers an interesting insight into the process of creating and utilizing their own personal grading standards.
23.) Science Teacher – The writer of this blog is a former pediatrician turned high school science teacher who chronicles both his in school and out of school adventures to provide readers with insight into the entire process of being an educator.
Where to begin: Science Teacher's 2012 Toy Recommendations provides important insight for new teachers and parents about the best way to encourage an interest in science.
Social Studies
24.) I Want to Teach Forever – The former social studies and math teacher who writes this blog gives current teachers the benefit of his years of educational experience. The blog focuses on ideas for engaging students in the learning process and inspirational tips for teachers.
Where to begin: Project Idea: What if You Lived in the World's Skinniest House presents teachers with a unique math project that would give students the opportunity to use mathematical equations and rational thinking.
25.) Stump the Teacher – This blog is written by a Language Arts and Social Studies teacher who likes to share both his teaching and personal experiences with other educators. Topics include teacher inspiration and ideas for education reform.
Where to begin: Rules…are for the Teachers… challenges educators to take a look at their role in the implementation of their school's rules. The author also discusses how powerful cell phones could be if they were utilized in the classroom to enhance each student's learning experience.