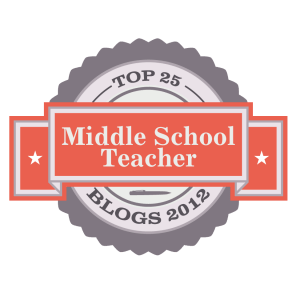 Blogs are a popular way for teachers to exchange ideas, share resources, and encourage one another along the way. We've selected 25 of the best middle school teacher blogs from 2012 to help give future educators a window into the life of a middle school teacher.
Blogs are listed in alphabetical order by title.
1. Adventures of a 6th Grade Teacher – Miss Klohn, a second-year sixth-grade teacher, updates her blog frequently with stories, advice and plenty of pictures taken right from her middle school classroom. Her writing style is upbeat and conversational, and her blog includes plenty of great resources such as anchor charts and interactive student notebooks.
Where to begin: Just Breathe, a great back-to-school post, takes readers inside Miss Klohn's classroom and inside her mind as she deals with the most hectic part of the year.
2. The Classy Teacher – A young middle school teacher in Little Rock shares her thoughts on classroom management, technology, literature and science, with the occasional dash of Christian perspective. Mrs. Weaver has a knack for highlighting little aspects of her day-to-day life that can appeal to any middle school educator, regardless of circumstances.
Where to begin: The author's ability to pull meaning out of everyday classroom occurrences comes to the fore in The One In The Bathroom.
3. Confessions of a Middle School English Teacher – The author, known as A-Teacher, is one of the most candid bloggers in the field today. One would expect an English teacher to have a great command of language, and indeed Confessions is full of literary twists and turns that make the style almost as enjoyable as the content.
Where to begin: Crime and Unusual Punishment? is an entertaining story of a creative approach to supervising detention.
4. Fast Times of a Middle School Math Teacher – True to its name, this is a fast-paced blog with stories about activities and creative progress in the author's math classroom. Every post focuses on a specific event from start to finish, including plenty of pictures and bright, entertaining prose. Besides being fun to read, the posts are full of ideas applicable to any classroom, and the pictures make implementing those ideas a snap.
Where to begin: Student Reflection contains one of the author's most practical ideas for helping students succeed in the classroom.
5. Finding JOY in 6th Grade – Written by a middle school teacher in a big city in California, Joy in Sixth is an always upbeat blog that doesn't take itself too seriously. In a field that can be all too stressful and frustrating, author Kim never fails to look on the bright side.
Where to begin: I Like Blogging, Yes I Do! is a great introduction to the author's whimsical style.
6. Flip! Learn! Share! – After fearlessly experimenting with new techniques in her classroom, author Robin shares what she has learned about teaching math and education in general from her students. Her posts weave together day-to-day updates on her students' progress, information on her teaching philosophy and thoughts on life. This blog does a fine job of taking readers through the ups and downs of a middle school teacher's life.
Where to begin: Read about the experience that caused the author to exclaim: I like teaching again!
7. The Jose Vilson – Middle school teacher, public speaker, activist and web designer Jose Vilson stocks his website with lengthy, insightful posts, entertaining videos and helpful illustrations. Vilson focuses on the big picture in the world of education and isn't afraid to tackle controversial topics, including race and politics.
Where to Begin: Vilson does his best work when writing about motivation, as in this piece on Creating a Sliver of Hope.
8. Lessons From The Middle – As its name suggests, Lessons From The Middle is filled with lessons, activities and teaching ideas for middle school classrooms. Seventh-grade teacher Krystal Mills is passionate about teaching, her students, and her family, and that passion comes to the fore in every word she writes. Many of her posts include links to valuable and affordable resources.
Where to begin: This post on Literal Questions reveals much of Mills' teaching philosophy and style.
9. Life in Middle School – Lauren, a middle school teacher, mother and hockey player, packs her blog with fun class activities, ideas to integrate technology in the classroom and more. Her website recommends dozens of products and tools for use in and out of the classroom.
Where to begin: Take a look at the CHAMPS Bulletin Board post, which combines her thoughts on student engagement with a potentially helpful product recommendation.
10. Little Miss Middle School – The teacher who runs this colorful blog is near-obsessed with creative, engaging lessons and activities in math, science and literature. Little Miss Middle School focuses on timely activities, including holiday-themed projects, ideas that draw from current events and back-to-school and end-of year projects.
Where to begin: Christmas Mad Science Activities! has everything that makes a Little Miss Middle School post great: a set of fun activities, a detailed explanation and a link to follow-up materials.
11. Love::Teaching – Author Laura Coughlin writes this blog with one purpose: to remind teachers of the reasons they started teaching. Her blog is full of personal anecdotes from her classroom, professional development and life in general, all written in a direct, upbeat style that reveals her remarkable passion and insight.
Where to begin: Read Good, Lucky or Blessed? for a timely picture of Coughlin's outlook on life.
12. Making It As A Middle School Teacher – Educator Michelle Lundy's upbeat approach is apparent in her blog's subtitle: "And smiling about it at the end of the day." On this colorful website, readers will find nothing but positive, motivated writing and links to useful teaching resources and tools.
Where to begin: This Around the World Wednesday showcases a fun end-of-year activity for Lundy's social studies students, complete with pictures.
13. Removed by editor.
14. Middle School, Day by Day – Since 2003, middle school teacher Cossondra George has been blogging about her experiences teaching seventh grade. George's writing is always candid, occasionally frustrating but usually uplifting, and her narrative style really brings the reader into her classroom. Rather than focusing on academics and curriculum development, she portrays her students as the flawed but lovable young people they are.
Where to begin: Check out So there's this kid… and the follow-up post for a look at some of the author's biggest ups and downs.
15. Middle School Maven – The science teacher who writes this blog brings readers into her world with fast-paced, narrative writing. Her stream-of-consciousness style can be a little hard to follow at first, but there is no better way to really get a look at the life of a teacher and coach from her unique perspective.
Where to begin: For an introduction to Mrs. B's style, her outlook on education and her thoughts on blogging, look no farther than Thank You.
16. Ms. Z Teaches in Mathland – Ms. Zimmer, a California math teacher, keeps her blog frequently updated with thoughts on math instruction and more. The site mixes information on curriculum development and lesson ideas with thoughts on politics, current events and life in general, frequently within the same post. Pictures and tables make Ms. Z's posts easy to understand.
Where to begin: A Ted Talk and Some Random Thoughts introduces readers to Zimmer's whimsical style and includes links to some thought-provoking resources.
17. Oh Happy Day – Despite focusing on one of the most challenging career paths in the world of middle school education, this blog maintains a hopeful, upbeat tone throughout. M.E. Hall, a Los Angeles educator who teaches children with mild disabilities, brings her readers into her world with thoughtful posts accompanied by illustrations.
Where to begin: Hall's honest conversations with her students give the reader a snapshot of her persona and her outlook on teaching.
18. PPerfect Squares – Written by math teacher Pam Rissmann, this blog is full of creative ways to teach a subject that gives many middle school students fits. Her philosophy is simple: Make math enjoyable, and students will respond with better performance.
Where to begin: Check out My Favorite Extra Credit for a fresh look at one of the most contentions topics in any middle school classroom: opportunities to earn extra points.
19. ScienceFix – This blog is one of the best resources on the Internet for middle school science classrooms. Written by Darren Fix, a middle school science and technology teacher, ScienceFix is full of text descriptions and video demonstrations of science experiments suitable for middle school students. Some of the activities even include downloadable handouts and other resources.
Where to begin: Gold Ball vs. Lead Fishing Weight, one of Fix's favorite demonstrations, makes understanding basic physics a snap.
20. Surviving Sixth Grade – Written by a veteran teacher in South Carolina, this blog includes thoughts on the author's own students, the broader world of education and life outside the classroom. Frequently updated, Surviving Sixth Grade combines readable, conversational writing with links to valuable resources and timely commentary on current events in education.
Where to begin: By George, I Think I've Got It! is all about creatively overcoming a classroom management challenge.
21. A Teacher's Treasure – Mor Zrihen, a charter school instructor in South Florida, keeps this blog updated with story after story drawn from her classroom and recommendation after recommendation of useful tools and resources. In addition to the entertaining posts, A Teacher's Treasure offers dozens of materials for middle school teachers, nearly 40 of which are available as downloadable "freebies."
Where to begin: 5th Grade Literacy Centers includes information on classroom management, ideas for efficient use of resources and dozens of pictures.
22. Teacher Wife – One of the most inspirational education blogs anywhere on the Internet, Teacher Wife's posts are written as letters, addressed to teachers who are dealing with common crises and reaching milestones in the classroom. The tone is unfailingly encouraging and every piece speaks directly to the reader.
Where to begin: Dear Teacher Who Feels Like She is Failing. The lesson? You are not.
23. Teaching Tweens The Denver schoolteacher who writes this blog touches on every aspect of a teacher's life, including planning, organization, classroom management and, of course, summer vacation. Her style is upbeat and optimistic while remaining grounded in reality, and many of her posts include helpful illustrations.
Where to begin: Take a look at the author's thoughts on several classroom management topics in Daily Cafe, Common Core, and Flipped Classroom.
24. Tween Teacher – Award-winning middle school teacher and author Heather Wolpert-Gawron maintains this blog and resource. Tween Teacher includes education news, curriculum design and current policy, but its main focus is on learning to enjoy the often hectic and challenging life of a professional educator. Her tips on teaching technique and classroom management are always insightful.
Where to begin: Take a look at 40 Strategies for Teaching ELD Students for a taste of Wolpert-Gawron's practical advice.
25. Will Grade for Coffee – Illinois sixth grade teacher Laura Webb has a self-professed caffeine addiction and a love of all things beautiful. Her blog isn't updated as frequently as some, but her posts more than make up for this deficiency with length and detail, bringing readers to her classroom with entertaining stories and pictures.
Where to begin: Week 5 offers a snapshot of the first month of the school year in Webb's class.